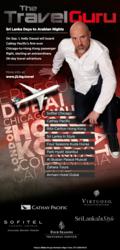 "I love to travel," Daoud said. "I guess you could say travel is in my blood."
Palm Springs, CA (PRWEB) July 21, 2011
The Travel Guru, a Palm Springs based travel consultancy, today announced "Sri Lanka Days to Arabian Nights". What is travel consultant Kelly Daoud most looking forward to on his four-week, three-continent, 36,000-mile "journey of a lifetime" beginning Sep. 1? Is it six idyllic days on the paradise island of Malé? Is it exploring the ruins of ancient Greece? Is it staying at the breathtaking Yas Hotel in Abu Dhabi, the wealthiest city in the world?
"It has to be the 90-minute hot-air balloon ride over Cappadocia in Turkey," Daoud said.
Daoud, who operates his own Palm Springs travel agency, The Travel Guru, will make stops during his September odyssey in Hong Kong, Sri Lanka, Malé, UK, Turkey and Abu Dhabi. Daoud is calling his exotic personal adventure, "Sri Lanka Days to Arabian Nights."
"I love to travel," Daoud said. "I guess you could say travel is in my blood." He has racked up more than 1.5 million miles traveling to 140 cities in 58 countries. On his September trek he will add Sri Lanka and The Maldives to the list.
The extraordinary journey begins in Chicago, where Daoud was born and raised. Daoud will travel First Class on Cathay Pacific's inaugural Chicago-Hong Kong flight. For travel junkies, being a passenger on an inaugural flight is equivalent to being in the bleachers for the Super Bowl, Daoud said.
"Inaugurals are a big deal. That particular event will never happen again. There's usually a party atmosphere before, during and after the flight." The Chicago-Hong Kong flight will be Daoud's eighth inaugural.
In Hong Kong, Daoud will stay at the world's tallest hotel, the Ritz-Carlton Hong Kong, which occupies the top levels of the 118-floor International Commerce Centre. From there Daoud is off for nine days in Sri Lanka and The Maldives, a tropical island nation in the Indian Ocean. In Sri Lanka, Daoud will visit Kandy, capital of the ancient kings and home of the Temple of the Tooth Relic, and then spend six blissful days in beautiful Malé, the Maldivian capital.
Leaving paradise behind, Daoud will travel by way of London to Turkey, where he will spend several days exploring Istanbul, Cappadocia, Ephesus, Pergamon and Troy, walking in the footsteps of Alexander the Great, Caesar, the Apostle Paul and the Apostle John.
The last leg of the adventure will take Daoud to Oman on the Arabian Peninsula and then to United Arab Emirates, where Daoud will spend two nights at the stunning Armani Hotel Dubai and then conclude his journey in Abu Dhabi.
Kelly Daoud has been in the travel business 17 years, but he has been traveling all his life. His father worked for TWA for more than 50 years, so Daoud had many opportunities to travel as a child. Daoud's brother became a captain for Qatar Airways, and Daoud became a travel consultant. In 2000 he opened his own agency, The Travel Guru, in Palm Springs. Daoud said he specializes in high-end corporate travel, serving people whom he calls "high-maintenance road warriors" at corporations which have included HP, IBM and Goldman Sachs.
###