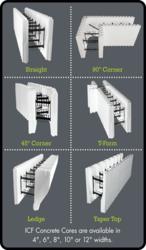 Reward is on the forefront of industry advancements...
Omaha, NE (PRWEB) July 21, 2011
Reward Wall Systems becomes the first insulated concrete form (ICF) to be officially certified to the new ASTM E2634 standard. This new standard will be referenced in the next 2012 IRC and IBC codes.
The new ASTM standard was created to deal with the varying quality of ICFs on the market by creating more consistency, acceptance, and credibility for the ICF market. Code officials and the design community will use the standard to ensure a minimum requirement is meant.
Kelvin Doerr, P.E., Reward's VP of Engineering who was on the task group to develop ASTM E2634 said, "After taking many years to finalize this standard, there is now a minimum benchmark to be part of our ICF industry. Reward has always been on the forefront of industry advancements, which is why we wanted to be first to comply with the new standard and to continually lead the ICF industry in innovation and market acceptance."
For more information on the new ASTM E2634 standard, Kelvin Doerr can be reached at 1-800-468-6344
Located in Omaha, Nebraska for the past 22 years, Reward Wall Systems, Inc. is the leading manufacturer and distributor of insulating concrete forms used in residential and commercial structures. Reward's customers include developers, architects, general contractors, residential contractors, and construction supply distributors. To learn more about Reward Wall Systems, Inc. go to http://www.rewardwalls.com.
###