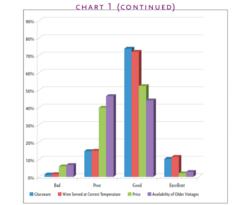 Denver, CO (PRWEB) July 21, 2011
In an online survey designed by Sommelier Journal and administered by Research Now, while sommeliers, service, and restaurant wine in general received good grades, restaurant wine pricing, by-the-glass programs, and wine advice from staff were criticized by consumers who drink wine and dine out regularly. Results of the study are published in the June 15 issue of Sommelier Journal.
A statistical sampling of 400 respondents from around the country were asked to rate fine-dining restaurant wine programs in 12 different categories, using a scale of excellent, good, poor, or bad. Availability of older vintages (combined 54% bad/poor), price (46%), by-the-glass offerings (45%), and wine advice from staff (44%) received the lowest grades. When it comes to price, 64% of those surveyed agreed (17% strongly) that wine is way too expensive in restaurants. In addition, restaurants ignore by-the-glass programs at their own peril: 64% noted that they would rather buy from a glass or small-bottle list because a full bottle would be too much to drink.
On the other hand, half of the areas did rate combined good/excellent responses above 84%: quality of wine lists (94%), level of service (88%), performance of sommeliers (85%), restaurant wine in general (84%), wine service temperature (84%), and glassware (84%).
Diversity and size of wine lists provoked smaller, but still noteworthy, expressions of displeasure, with 22% combined bad/poor responses for size and 21% for diversity of wine lists. Consumers also expressed a strong desire to see notes included on wine lists (73% agree, 19% strongly agree) and wine pairings built into the food menu (74% agree, 14% strongly agree).
This survey was conducted on SurveyMonkey.com from Nov. 3-9, 2010, using an online panel assembled and managed by Research Now. Panelists earn prizes for completing surveys on a variety of topics, as administered under the Research Now program. Participants were unaware that Sommelier Journal was responsible for the survey. The respondents were screened for age (all were over 21), frequency of eating at fine-dining restaurants (at least several times every few months), and frequency by frequency of wine consumption with reported percentages for the general population: a total of 39% for the top two frequencies (daily and several times a week), 20% for once a week, 26% for several times a month, and 15% for once a month. Respondents were 52% male and 48% female. The survey has a margin of error of +/- 4.9%.
For the complete overview of survey results, including consumer views on alcohol levels, food-friendliness, and typicity of wines; the most important trait of a sommelier and a wine program; and more, please visit http://www.sommelierjournal.com/articles/article.aspx?year=2011&month=6&articlenum=64
to read Part I of the survey report. Part II, published in the same issue, is a subscriber-only, in-depth examination of the seven psychographic sub-groups derived from the survey, with an analysis of how restaurants can tailor wine programs to appeal to each group. Sommelier Journal subscribers can read this part here: http://www.sommelierjournal.com/articles/article.aspx?year=2011&month=06&articlenum=72;
non-subscribers can purchase online access at the same link for $3.99.
Sommelier Journal is published eight times a year by a Denver-based company with more than 40 years of experience in the magazine industry. Anyone interested in starting a subscription for as little as $39 a year can do so at http://www.sommelierjournal.com.
# # #