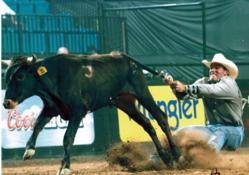 It's easier than you think to get Sponsored
Gillette, WY (PRWEB) July 21, 2011
For the first time in history, 522 Health & Sponsorship Cash Blueprint are truly helping High School Rodeo Athletes & their families. The help comes in the form of a Guaranteed Sponsorship & the fun comes in entering for a chance to win an iPad2, along with 4 iPods.
The man behind Sponsorship Cash Blueprint is JD Crouse, a past NHSRA National Champion, past National Finals Rodeo contestant, and past EVP of Sponsorship & Marketing for the PRCA. JD's passion is to help young people, who have a desire to compete professionally, create win/win partnerships with great companies.
"The sponsorship landscape has changed dramatically & I am empowering young people to deliver value to companies in ways that were beyond our imagination just a few years ago," said JD Crouse, President, Sponsorship Cash Blueprint
With nearly 20+ years of experience as a competitor, marketer and business owner, JD wants you to get sponsored. By visiting the link below or texting: SPONSOR to: 41411 you can learn all of the details.
Text: SPONSOR To: 41411
or visit: http://sponsorshipcashblueprint.com/special
About Sponsorship Cash Blueprint:
Our sole purpose is educating and empowering individuals to see how easy it is to create win/win relationships with companies & get paid for helping them.
Media Contact:
JD Crouse
719-332-3926
http://sponsorshipcashblueprint.com/special
###