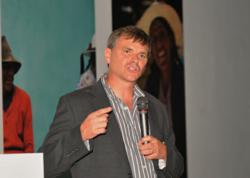 Denver, CO (PRWEB) July 21, 2011
Water For People, a non-profit international development organization dedicated to helping people gain access to safe drinking water and improved sanitation has recognized CH2M HILL and its employees for their long-standing support of the organization, having contributed more than $1 million to date.
Ken Miller, a former CH2M HILL executive, helped establish Water For People in 1991, and the global engineering firm headquartered in Denver has played an integral part of the organization's growth since then. From lending executive leadership to the board of directors, to providing World Water Corps volunteers and financial support from both the company and employees, CH2M HILL has demonstrated an unwavering commitment to helping provide clean, safe drinking water, sanitation and hygiene education to communities globally.
As a result of this commitment and leadership, CH2M HILL Senior Project Manager Toni Petrucci received Water For People Canada's William M. Butler award last month for Outstanding Canadian Service. Petrucci has just completed his term as Water For People Canada's past President and continues to serve as Ambassador for Water For People.
Most recently, Water For People recognized CH2M HILL at its "Everyone Soiree," an evening of dynamic conversation, art and music. Commemorating Water For People's game-changing Everyone Commitment, guests learned about Water For People's innovative approach to reach EVERYONE, meaning every family, school, and clinic, to provide access to sustainable safe water and sanitation resources.
Elisa Speranza, President of CH2M HILL's Operations and Maintenance Business Group and Water For People board chair, hosted the evening. She said CH2M HILL is thrilled to support such a prominent organization in its own backyard, communicating that with a 20-year presence, Water For People's mission is to develop innovative and long-lasting solutions to water, sanitation, and hygiene problems.
The evening showcased Water For People in Design for the Other 90%, a traveling Smithsonian Cooper-Hewitt National Design Museum exhibition being hosted by RedLine in partnership with iDE, highlighting solutions to help reduce poverty and improve quality of life. Water For People also presented an arbor loo in Sustainability Park, inviting visitors to learn about water and sanitation issues and opportunities. Jake Norton, renowned climber and co-founder of Challenge21, described his incredible goal to summit Mt. Stanley, and raise $2.1 million over the next 3-4 years by engaging 2.1 million people, all to support the Everyone movement. His ascent will begin on August 16th.
ABOUT WATER FOR PEOPLE
Water For People is a non-profit international development organization dedicated to helping people in developing countries gain access to safe drinking water and improved sanitation. Water For People's entrepreneurial approach establishes partnerships between local and national governments, nongovernment organizations, private enterprise, and entrepreneurs to create self-managed safe water and sanitation services that last over time. Water For People works to reach everyone with sustainable services in the areas where it operates and monitors development for at least 10 years post project completion. To learn more, visit WaterForPeople.org or join the conversation on Facebook and Twitter.
ABOUT CH2M HILL
Headquartered near Denver, Colorado, USA, employee-owned CH2M HILL is a global leader in consulting, design, design-build, operations, and program management for government, civil, industrial and energy clients. The firm's work is concentrated in the areas of water, transportation, environment energy, facilities and resources. With US$6.3 billion in revenue and 23,000 employees, CH2M HILL is an industry-leading program management, construction management and design firm, as ranked by Engineering News-Record and named a leader in sustainable engineering by Verdantix. The firm has been named a FORTUNE 100 Best Companies to Work For five times. Visit CH2M HILL at http://www.CH2MHILL.com, http://www.CH2MHILLblogs.com/water, twitter.com/CH2MHILL, and facebook.com/CH2MHILL.
Media Contacts:
Water For People
Amelia Gingold and Marissa Feinberg
Gingold(at)sunshinesachs(dot)com, Feinberg(at)sunshinesachs(dot)com;
(212) 691-2800
CH2M HILL
Patty Keck
Patty.Keck(at)CH2M(dot)com
(303) 330-3404
###