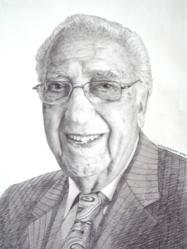 Houston, TX (PRWEB) July 22, 2011
The Iranian Cultural Foundation - Houston (ICF) will conduct its First Annual Fundraising Gala and Awards Ceremony on Saturday, October 1, 2011 at the J.W. Marriott Hotel in the heart of the Galleria Area from 8-11 p.m. In recognition of legendary world renowned Iranian architect and artist, Houshang Seyhoun, ICF is honored to tribute this event to his lifetime of achievements. Mr. Seyhoun has showcased the Persian contribution to the international community through his genius and unique artistic creations.
This fundraising gala will be followed, on Sunday October 2, 2011, by the first-time ever screening of a special film production by Majid Mahichi and Sharareh Soltani from Parvaz TV Film Corporation in Vancouver, Canada, narrating Seyhoun's accomplished life and works of architecture, paintings, and drawings.
To recognize the prestigious Hines College of Architecture, this exclusive viewing will take place in the Theatre Hall of the Hines College of Architecture at the University of Houston (Main Campus) from 2-4 p.m. then followed by a public screening from 4-6 p.m.
In close collaboration with the University of Houston - Hines College of Architecture, ICF has proudly established a $25,000 Endowment in order to award the The Houshang Seyhoun Scholarship for Excellence in Architecture to student projects inspired by Houshang Seyhoun's collective works. To ensure the immediate awarding of the scholarship, ICF has guaranteed an annual $1,000 award for the next five years until the minimum endowment of $25,000 has been reached and matured through public contributions.
All who appreciate ICF's cultural and community services are encouraged to support this special event with their generous financial contribution and active participation in the First Annual Gala. The major source of ICF's operational budget is provided by the generosity of those community-minded individuals and establishments that want to advance ICF's vision and mission.
The Iranian Cultural Foundation-Houston is a non-profit, non-political organization with no religious affiliation that fosters the educational, social, and charitable interests of the Iranian-American community. It promotes the appreciation of Persian culture and nurtures a deeper understanding between the Iranian and American communities.
For more information, visit http://www.ICFHouston.org, contact the ICF office (713-590-9770), or send an email to info(at)icfhouston(dot)org
Location Information:
ICF Headquarters: 9700 Richmond, Suite 100, Houston, TX 77042
J.W. Marriott: 5150 Westheimer Road, Houston, TX 77056
Hines College of Architecture: U of H. Cullen Blvd., Entrance 18
# # #