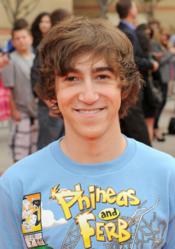 Hey, Wheres Perry!
Orlando, Florida (PRWEB) July 21, 2011
Vincent Martella is the voice of Phineas on Disney's world wide hit Phineas and Ferb. Friday Vincent Martella will be signing autographs on and sitting on the Phineas and Ferb panel.
Vincent Martella was recently seen on board Disney's Flagship, the Disney Dream, where he did a surprise presentation on Phineas and Ferb. Vincent Martella later signed autographs and took pictures with fans.
Vincent Martella has lent his voice as Hope in Final Fantasy and Robin in Batman Under The Red Hood. Vincent Martella plays the role of Greg, in the critically acclaimed show Everybody Hates Chris.
Vincent Martella has been nominated for a Teen Choice Award. Phineas and Ferb has earned Emmy Awards nominations and an Emmy Award." Everybody Hates Chris has earned Diversity, Family Friendly and Image Awards as well as nominations for People's Choice, the Golden Globe Awards and two Emmys.
###