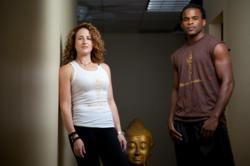 "Clients choose the program that best fits their goals, including general or targeted weight loss, flexibility, detoxification or pregnancy health," Jacobson says. "We design their personal program accordingly, supporting them every step of the way."
Mount Kisco, NY (PRWEB) July 21, 2011
Making a commitment to fitness can be full of choices. Is it best to go to a personal trainer and figure out your own diet? Or does going to a nutritionist or weight loss program make the most sense? Skinny Buddha Inc., a new center for personalized exercise and diet programs, makes the choice easy with a full spectrum of training and meal services that promote the fitness of both body and mind.
Founders Elyce Jacobson, a classically trained chef with a healthy cooking approach, and Shaka "THE K.I.N.G." Davidson, a personal trainer and Golden Gloves boxer, created Skinny Buddha to provide an integrated, holistic, results-oriented fitness program. The first center in Westchester County to combine exercise and personal training with prepared organic meals, Skinny Buddha offers customizable packages to suit individual needs.
"Each of our programs has a specific focus and incorporates a variety of high-performance tools," explains Jacobson. "Clients choose the program that best fits their goals, which could include general or targeted weight loss, flexibility, detoxification or pregnancy health. We design their personal program accordingly, supporting them every step of the way."
Skinny Buddha is located in a state-of-the-art fitness facility with all the necessary equipment for clients to achieve their goals. An experienced team including a doctor, nutritionist, yoga instructor and holistic health counselor are incorporated into programs as needed. Jacobson and Davidson provide 24/7 follow up, closely monitor client progress with detailed records and analysis, and adjust workouts, diets and other services to maximize results.
Skinny Buddha offers a growing list of roughly a dozen programs. "Buddha Belly Fat Loss," for instance, is a six-week package with a physician's evaluation, cardio, resistance, plyometrics, high-intensity training, boxing, kickboxing and massage. "Buddha's Detox" incorporates core movement and massage to flush out toxins and stimulate the digestive tract. Mommies-to-be can enjoy a customized "Pre-Natal 'Baby Bearer' Buddha" program. Additional classes/sessions include Restorative Yoga, Body Massage Therapy, Butt Camp and Spin, which can be customized to videos of scenic rides along Utah canyons, California coastlines and Highway 66.
Elyce Jacobson (a.k.a. Chef E) is the chef/owner of In Good Taste, an organic catering company based in Armonk, N.Y. A classically trained chef, Elyce supplemented her traditional training at Peter Kump's New York Cooking School with a healthy cooking philosophy and focus on organic ingredients. Shaka "THE K.I.N.G." Davidson is a personal trainer, massage therapist, Golden Gloves boxer and DJ based in Mount Kisco, N.Y. He is passionate about matching a client's nutritional needs with personalized training programs that maximize their efforts. Davidson's experience includes personal training at the Lexington Avenue Gym and massage therapy at the Saw Mill Club. He attended the Swedish Institute and Mercy College.
Skinny Buddha Inc. is located at 128 Radio Circle, Mt. Kisco, NY 10549. For more information, call 914-666-9646, visit http://www.myskinnybuddha.com or email info(at)myskinnybuddha(dot)com.
###