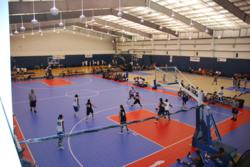 "SnapSports basketball sports flooring is awesome, it's easy to install, easy to clean, and offers unparalleled player safety and performance, it's truly second to none and our players love it!" – Matt Williams, Tournament Director
Salt Lake City, UT (PRWEB) July 21, 2011
The AAU Jam On It, will be hosting a series of All Under One Roof Basketball Tournaments in Las Vegas, beginning July 21, 2011 at the Las Vegas Hilton and Las Vegas Hilton Convention Center. Over 300 teams, representing 20 different states, are expected to participate in this series of tournaments, which includes the West Coast National Championships, the Jam On It Grand Finale, and the AAU West Coast Junior Olympics. Each of the tournaments will be played on SnapSports® patented basketball sports surfacing.
SnapSports® Athletic Floors, featuring SnapSports' patented ShockTower® technology, is the industry's first and only modular flooring system to incorporate a multi-patent, absorbent sub-structure and is the industry's most advanced suspended modular sports flooring. SnapSports ShockTower® floors feature a resilient shock technology that offers excellent impact control and rolling support for an added level of player safety during aggressive play and superior performance.
"SnapSports basketball sports flooring is awesome, it's easy to install, easy to clean, and offers unparalleled player safety and performance, it's truly second to none and our players love it!" – Matt Williams, Tournament Director, Jam On It –All Under One Roof Basketball Tournaments
The AAU Tournaments have been strategically separated so more teams could benefit from the experience. Jam On It will have tournament style court set-ups in both the Las Vegas Convention Center and the Las Vegas Hilton Center, the configuration will mean that teams do not have to leave the building for play, and is expected to provide an incredibly exciting atmosphere.
"We are excited for the opportunity to continue our long-standing relationship with the 'AAU Jam On It' organization and provide the industries best high-performance basketball courts these athletes need to perform at the top of their game" – Jorgen Moller, CEO, SnapSports®, Inc.
About SnapSports®–
No company has more hands-on experience within their ownership and management teams than that of SnapSports® and are the worlds leading manufacturer and supplier of premium modular sports surfacing for residential and commercial applications. SnapSports is proudly engineered and manufactured in the U.S.A. Located in Salt Lake City, Utah; SnapSports manufactures 24 hours a day, 7 days a week, 365 days a year in their 100,000 square foot facility.
SnapSports® is the official provider of sport surfacing for the United States Futsal Federation, Volleyball Festival, Special Olympics, World Fire & Police Games and USA Team Handball. SnapSports® is FIBA associate manufacturer – ISO 900:2008 Certified
###