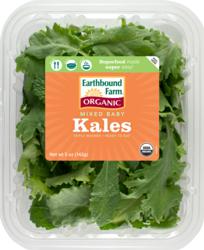 San Juan Bautista, CA (PRWEB) July 20, 2011
New from Earthbound Farm, Organic Mixed Baby Kales is the latest addition to the top organic food brand's innovative line of fresh, convenient and nutrient-dense foods. The Organic Mixed Baby Kales capitalize on the growing popularity of kale, which has been propelled by its tremendous nutrient content. Kale is rich in vitamins A and C, as well as fiber, folate, iron and magnesium*. Despite kales rising popularity, many consumers remain intimidated by mature bunched kale: it must be washed, de-stemmed, chopped and very likely par cooked before using in a recipe.
Earthbound Farm's innovative new Organic Mixed Baby Kales brings convenience and accessibility to nutritional powerhouse kale by completely eliminating the need for prepping the greens. Pre-washed and ready to use, the leaves are tender enough to add directly to salads or a quick stir-fry, as they require less cooking time than mature kale. As with all Earthbound Farm greens, the Mixed Baby Kales are triple-washed and food safety tested twice before being packed in 100 percent post-consumer recycled (PCR) clamshells.
One single cup of cooked kale delivers more than 1300 percent of the daily value of vitamin K and 89 percent of the daily value of calcium**. The Aggregate Nutrition Density Index (ANDI), a food score created by Joel Fuhrman, M.D. (and described in his 2008 Eat Right America Food Scoring Guide), is based on an equation for the health of a food equaling the nutrients it provides per calorie. Kale is at the top of the ANDI list scoring 1,000 out of 1,000 points. The U.S. Department of Agriculture estimates that less than five percent of Americans get their minimum daily nutrition. Integrating Earthbound Farm's nutrient-rich kale into one's diet makes it easy for all consumers to increase and improve their daily nutrition.
The suggested retail price for Earthbound Farm Organic Mixed Baby Kales is $3.99 per 5-ounce clamshell and is available where you find other Earthbound Farm organic products at retailers nationwide July 2011.
Editor Note: High-resolution product photos are available upon request by contacting drew(at)freshideasgroup(dot)com.
About Earthbound Farm
Founded in 1984 on a 2½-acre backyard garden, Earthbound Farm is one of the nation's leading organic food brands. Earthbound Farm's nationally-lauded food safety program is unparalleled in the produce industry. The company offers more than 100 varieties of certified organic salads, fruits, and vegetables grown on over 36,000 acres by 150 independent farmers. Taken together, those organic farming methods will keep more than 11.5 million pounds of conventional chemicals out of the soil, water, and air during 2011 alone. In addition to organic farming, Earthbound Farm brings a sustainability ethic to its packaging, and was the first salad producer to convert all its rigid plastic packaging to 100% post-consumer recycled (PCR) PETE plastic. The company also uses 99% PCR paperboard for its shipping cartons and 100% PCR paper in its business machines. For more information, visit Earthbound Farm's website at http://www.ebfarm.com.
*Tufts University Health and Nutrition Letter 18, no. 11 (January 2001).
**Wellness Options, 31 (2007): 43.
###