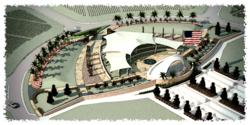 Sarasota, FL (PRWEB) July 25, 2011
The Patterson Foundation today announced the Department of Veterans Affairs, National Cemetery Administration has approved the design of a $5.5 million ceremonial enhancement area at Sarasota National Cemetery. When complete, the nearly two-acre enhancement area will provide space for ceremonies and celebrations held at the cemetery.
"This is the first time a private foundation is funding such a ceremonial enhancement," said Debra Jacobs, president and CEO of The Patterson Foundation. "The combination of shade, seats and art will provide a venue our region will be proud of and one that will honor those who have served our country and inspire patriotism."
In January 2010, The Patterson Foundation announced a military initiative, benefiting Sarasota National cemetery, which honors the Patterson family's commitment to veterans and service to our nation. An endowment will be provided to offset replacement maintenance costs to the National Cemetery Administration for the assembly area.
"This special gift will provide veterans and their families with a first-class facility and serve as a lasting legacy of the Patterson family's military heritage," said U.S. Rep. Vern Buchanan, who spoke at the announcement event. "I applaud The Patterson Foundation and the VA for working together on this innovative project to honor area veterans."
Enhancement Design Features Include:

Permanent seating for 230
Temporary seating for 990 (approx. 1,200 under permanent shade)
Berm-area seating 1,370 (under portable shade structure)
Covered Rostrum – holds approx. 24-30 people
Lighting and amplification system
Service and war memorials
Gardens
Eighty-foot flagpole
Site furnishings
Construction of the enhancement space will begin once the first phase of Sarasota National Cemetery construction is complete during late summer 2012.
"Strong support from the local community makes a big difference to our ability to serve Veterans and their families," said Steve L. Muro, Under Secretary for Memorial Affairs. "It can take years to build that level of support. But not here. We were welcomed to Sarasota with open arms and, as The Patterson Foundation's donation and today's gathering demonstrate, this community's warm embrace continues."
About The Patterson Foundation
The Patterson Foundation exists to inspire others through innovative, collaborative and efficient philanthropy and generosity. The foundation approaches its work through communications, finance, learning and technology, with an emphasis on collaborating with others to leverage resources and create New Realities. For more information, please visit http://www.ThePattersonFoundation.org.
###