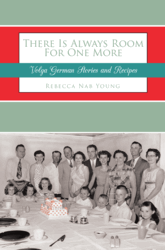 I wrote this book for my mother, and I wrote this book for my Volga German people.
Cave Creek, AZ (PRWEB) July 20, 2011
What started out as a Christmas gift for author Rebecca Nab Young's mother ended up as a comprehensive compilation of Volga German history, food and family in 'There's Always Room for One More: Volga German Stories and Recipes.'
"I was interested in getting the old recipes out of my mother's head and onto paper," says Young. "My daughter suggested I put a little story with each recipe."
Young was encouraged to publish the book, which she calls her "accidental book" (http://www.accidentalbook.com). The heartwarming "story cookbook" hearkens back to 1950s America and the small Volga German community of Wyoming farmers that Young grew up in. Young dispenses humorous stories of growing up as an only daughter in a German immigrant family from Russia, all while sharing simple, authentic family recipes passed down through several generations.
Volga German families such as hers descended from a group of German residents recruited as immigrants to Russia in the 18th century. Many Volga Germans immigrated to the U.S. during the 19th century, and those left behind in Russia were transported to labor camps during WWII, where several died. In 1956, prison camp survivors were released, but weren't allowed to return to those villages. There are only about 1200 Volga Germans in Germany today.
"I wrote this book for my mother, and I wrote this book for my Volga German people," says Young. "I want them to be proud of who they are and what they survived."
Recipes from There's Always Room for One More are traditional Volga German style—a mix of Russian, German and American food. Recipes include Cabbage Buns, German Chocolate Cake, Grebble, Crock Dills, Strawberry Pretzel Salad, German Garlic Sausage, Pumpkin Pot and Zucchini Bars. The book also includes a homemade recipe for lye soap and cherished Nab family photos.
About the Author:
Rebecca Nab Young grew up in a tight-knit Volga German community in Wyoming. She's grown passionate about good food and family from living on a farm and then a ranch, and was heavily involved with cooking while in 4-H. She currently works overseeing a food and beverage service for a large hotel, and resides in a suburb of Phoenix, Ariz. Young is married with two children, and says her 89-year-old Volga German mother is still her best friend.
###