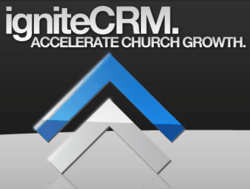 faithHighway announces the release of the new version of IgniteCRM Church Edition, filled with features that every church needs!
Austin, TX (PRWEB) July 22, 2011
faithHighway announces the release of the new version of IgniteCRM Church Edition, filled with features that every church needs!
IgniteCRM Church Edition is designed to help churches with everything they need to track and manage people connections, organize events, facilitate groups and volunteers, monitor church health and contributions, and integrate all areas of their ministry into one system that can be accessed from anywhere online.
The newest version of IgniteCRM Church Edition includes:
Brand-new Member Dashboard – for church members.

Volunteer Sign Up – Members can view current and upcoming volunteer opportunities and register to help out.
Recent Activity Widgets – Members can view and share via social networks recent media items from the church, see their recent contributions and keep track of recent prayer requests from fellow members.
News Feed – The church can direct news directly to their members that will automatically show up on their dashboard.
Group Information – Shows member's groups, leaders, volunteer opportunities, and events while allowing them to look for new opportunities or share group info via social networks.
Group Events – By registering for various groups and ministries, members will be able to see upcoming events right on their dashboard.
Member Profile – Makes it easy for members to edit personal information which is tied into the church records.
Make Contribution – Members can make a secure contribution to the ministry straight from their dashboard.
Upgrades to Church Leadership Access – for church staff
New and Improved Dashboard
-- Ministry Overview section gives the church a detailed look at various reports and stats.
-- Ministry Metrics gives the church leadership a brief overview to easily review the most important numbers, such as: attendance, visitors, and giving for each time period.
-- Trend Graphs show financial and attendance trends over the past 90 days for quick visual reference on how the church is doing.
Increased Information Input Options - Whether the church is setting up member or group records, they now have a lot more options.. This allows the church to keep track of everything from contact information to food allergies.
Simplified and Streamlined Search and Report Functionality – faithHighway developed a comprehensive set of reports covering attendance, giving, visitors, and more.
The improved IgniteCRM Church Edition system will offer a comprehensive member connection and information management system for churches. faithHighway will also be offering Saturday support hours to help churches make the most of the new system.
About faithHighway
The goal of faithHighway is to equip local churches and ministries with powerful, top-notch tools that they can use to reach their community in affordable and cost effective ways. As the nation's leader in church solutions, faithHighway has served thousands of churches, from church plants to large congregations, for over a decade by providing cutting-edge custom church websites, robust award winning media centers, powerful outreach evangelism television commercials, logo design, and full media placement services to the church market, including TV, radio, direct mail, billboards, online advertising, and other marketing mediums.
###