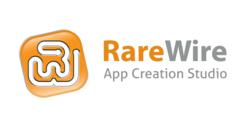 (PRWEB) July 30, 2011
RareWire, a provider of app creation solutions for the iPad, iPhone and other mobile devices, today announced that its client, The Atlantic, has launched a major upgrade to its iPad app -- "The Atlantic Magazine: Digital Edition." Over the last year, RareWire has been The Atlantic's partner in building its current magazine application, but The Atlantic wanted to increase the scope of that app.
"Whether it's long-form pieces in the magazine, daily news and analysis on our website, or Alan Taylor's stunning collection of photos on the In Focus photography blog, The Atlantic's new iPad application provides an enhanced reading and viewing experience no matter the type of content," said M. Scott Havens, Vice President, Digital Strategy and Operation. "RareWire has been a fantastic partner throughout this process."
The Atlantic Magazine: Digital Edition app is a combination of current, real time stories updated dynamically from TheAtlantic.com's news feeds straight to the app as articles are published. Readers can also access current and recent back issues of The Atlantic magazine through a variety of ways: in-app purchase of an individual issue, as a subscription via Apple's subscription service, or bundled with a reader's existing print subscription of The Atlantic magazine.
Kirk Hasenzahl, President of RareWire, is also very excited about this app. "The entire app consists of only 3000 lines of XML code. Anyone who is creating apps today will find that almost impossible to believe. To build this app any other way would take 10X the number of lines of code. The Atlantic app really shows off what is possible with RareWire's software. When we launch our tools this fall, any web designer will be able to build a similar app in weeks or less with our App Creation Studio."
RareWire is not based on HTML5. RareWire's App Creation Studio provides web designers the ability to leverage their existing skills and create true native apps, without having to be an Objective C, JavaScript, or Java programmer. The Atlantic app is built in XML, and is a combination of live news feeds, magazine issues with integration to current subscriber databases, live feeds from The Atlantic's current ad servers, and analytics.
The Atlantic app is live today in the Apple app store. Additional upgrades to the iPad application will be released in the coming months.
RareWire's App Creation Studio will be available on the market this fall for both iOS and Android, making it easy for anyone, from individuals to publishers to major corporations, to publish their content on tablet and mobile devices. The software has been used to build apps for CA Technologies, Ebony Magazine, West Point Military Academy, and many more. For more info, visit http://www.rarewire.com.
# # #