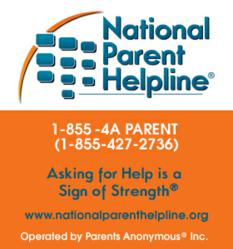 Claremont, CA (PRWEB) July 22, 2011
Parenting is a critically important job. It's full time—24 hours a day, everyday. While raising children can bring great joy, it can also be challenging and stressful, particularly in today's fast-paced, difficult times.
Now there is a welcomed resource that offers emotional support, information and assistance designed to help parents and caregivers create safe and nurturing homes for their children. It is the National Parent Helpline® at 1-855- 4A PARENT (1-855-427-2736) where trained Helpline Advocates are available for callers in both English and Spanish, Monday – Friday from 10 AM – 7 PM PST.
Economic insecurity, community safety and cutbacks in education are but a few of the many issues faced by today's parents. With one phone call to the Helpline or a mouse click onto its website, http://www.nationalparenthelpline.org, parents become better prepared to resolve their concerns, as well as receive referrals to services when appropriate. The site also links to Facebook and Twitter, each designed to build on the strengths of families.
"Asking for help is a sign of strength," states Dr. Lisa Pion-Berlin, the Helpline's President and Chief Executive Officer. When parents call the National Parent Helpline®, a trained Helpline Advocate will provide the emotional support that is often needed by parents and caregivers who are under stress."
Operated by Parents Anonymous® Inc. the National Parent Helpline® offers a non-judgmental, active listening approach that enables parents to build self-confidence and self-esteem.
The Helpline also assists parents with a wide range of issues, including:
•Parenting and positive discipline techniques
•Effective communication strategies
•Stress reduction techniques
•Personal care and safety
•Referrals to community based services, (i.e. shelters, substance abuse programs, respite and childcare)
U. S Senator Barbara Boxer said, "I commend Parents Anonymous® for launching its website, which will help ensure that the resources parents need to prevent child abuse are just a telephone call or click away."
Stressed or frightened parents who have called the Helpline have received support, guidance and reassurance in many areas, including:
•The first-time dad who needed tips on infant care;
•A new mother who needed reassurance about her parenting skills;
•The mother who was concerned about her daughter being bullied;
•A mother who needed advice about how she and her ex-husband could work together to stop their daughter's defiant behaviors.
The National Parent Helpline® serves as an essential prevention and family strengthening resource for the 149 million parents and caregivers who might be worried, fearful, stressed out, or looking for a word of comfort and reassurance.
One such parent was Tanya L., a mother who says, "My teenage son was acting out and I wasn't sure how to handle him. I called the National Parent Helpline® and an Advocate calmed me down and gave me very useful ideas about how to handle the situation. Calling the Helpline really made a big difference."
About the National Parent Helpline®
The only one of its kind in the nation, the National Parent Helpline® provides emotional support, assistance and information to parents and caregivers. Trained Helpline Advocates are available at 1-855-4A PARENT (1-855-427-2736). Our website http://www.nationalparenthelpline.org offers comprehensive parenting resources and a bulletin board for community dialogue.
About Parents Anonymous® Inc.
Founded in 1969, Parents Anonymous® Inc. is the nation's premier family strengthening organization dedicated to the prevention of child abuse and neglect. For more information call 909-621-6184 or visit http://www.parentsanonymous.org.
Media Contact:
Barbara Meltzer
Barbara Meltzer & Associates Public Relations and Marketing
323-964-9555
barbara(at)meltzerpr(dot)com
###