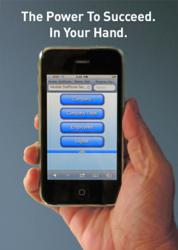 Atlanta, Georgia (PRWEB) July 21, 2011
Bond International Software announced today that the latest version of Bond VCG StaffSuite includes a Mobile Web App to support smartphones such as the iPhone, Android, Blackberry, and others with Internet browser access.
Through a secure login, the StaffSuite Mobile Web App gives smartphone users the power to access key client, activity and assignment history, company rep, and employee data. This access enables staffing and recruiting sales representatives and recruiters or staffing coordinators to respond faster to client customer needs – initiating orders, assignments, and placements with less effort.
StaffSuite activities are searchable so that the user can review staffing orders and assignments and other staffing placement information. A staffing or recruiting sales representative can create a client's order request for temporary or direct-hire placement. In addition, the StaffSuite Mobile Web App enables the smartphone user to perform a quick search for temporary employees or candidates based on skills, industry, occupation, and other criteria.
Brian Critelli, Vice President of Meador Staffing of Pasadena, Texas noted, "The screens are clean and easy to use. Searching is easy. I think everyone that uses Staff Suite will see the value of this product."
Timm Sturgeon, Controller for Trillium Staffing headquartered in Kalamazoo, Michigan said that, "The first thing we noticed was how easy the interface was to work with. Today many of the mobile application developers feel the need to dress up the screen with flash, images, and colors that really distract from the user experience. The StaffSuite Mobile Web App displayed the information in a legible format that was easy to read and navigate even on the smaller mobile phones. We were particularly impressed with the amount of content accessible with the app."
Sturgeon continued, "Sales representatives who looked at the app said it would be nice to be able to sit in front of a client and run a quick search right on the mobile application to let the client know how many candidates we have available for them. Because it is less cumbersome and bulky than a laptop or even an iPad, it will be a lot easier and less intimidating to present to clients."
The StaffSuite Mobile Web App is device and operating system independent for maximum flexibility and includes such standard smartphone features as the ability to launch Website URL's, email, Google Maps, and phone dialing. For security, authorized users will be able to access the StaffSuite Mobile Web App from a URL using their StaffSuite User ID and password. It will be available at no additional cost to VCG's StaffSuite customers.
Steve Taylor, President and CEO of Bond VCG, said, "With the exponential growth of smartphones for business, staffing and recruiting company personnel need access to certain important pieces of business data while away from the office or laptop. The StaffSuite Mobile Web App gives our customers that access and a powerful way to respond to the needs of their customers quickly and efficiently. That helps them close more business and fill more orders."
About StaffSuite
StaffSuite is a fully integrated staffing software suite that streamlines your temporary staffing or full-service staffing operation to increase productivity, control costs, and improve margins. StaffSuite improves operations by integrating your sales, recruiting, orders, and placements along with temporary and contingent employee payroll and client billing. StaffSuite has proven its ability to drive staffing success in firms ranging in size from single office operations to national firms with hundreds of users.
About Bond VCG
Bond VCG provides comprehensive staffing and recruiting solutions that power success. Since 1976, Bond VCG has helped hundreds of companies worldwide achieve operational excellence by streamlining their unique business processes and accelerating finding and placing the people most likely to thrive. Bond VCG and StaffSuite are registered trademarks of Bond International Software. For more information visit http://www.vcgsoftware.com or call 1.800.318.4983.
About Bond International Software
London stock market-listed Bond International Software (BDI) is a global provider of recruitment and human capital management (HCM) software and services. Bond is the largest, and most established, global specialist in staffing software worldwide and is a rapidly growing provider of web-based and multi-lingual e-recruitment and talent acquisition software to the corporate market. Bond also provides established HR and payroll software and outsourcing services directly to both the public and private sectors.
Established in 1973 and listed on the London Stock Exchange since 1997, Bond has over 35 years experience in the development and creation of products and services that have become industry standards. Headquartered in the United Kingdom, the Group also has offices in the United States, Australia, Canada, South Africa, Japan, Hong Kong and Peru - with a global team of nearly 500 employees, more than 3,500 customers and over 100,000 users. For more information please visit http://www.bondinternationalsoftware.com
###