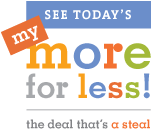 Here's our best advice: Portability is the word!
Buffalo, NY (PRWEB) July 21, 2011
Products from morestorage.com can make packing for college a breeze.
Back to school is on the minds of many, and morestorage.com can help with their varied array of products, price ranges in the college budget, and even the possibility of shipping straight to a dorm.
Morestorage.com is a company that has been around for 26 years and specializes in storage and organizational products. Many of their products have been installed in homes before so they know how they work, where they work, and why people should buy.
College dorms are a perfect place for any and all morestorage.com products. Moving into a college dorm can seem daunting but really there are some key tools to make it easy and painless. Simple buys such as getting a shoe rack, closet extender, and collapsible storage bins can be the perfect place to start.
"Here's our best advice: Portability is the word!" said Diana Augspurger writer of the creative storage blog and morestorage.com owner. She believes in sturdy quality material, that can be taken apart and put back together, along with finding items that are light enough and easy to break down is the best way to make what could be a cluttered small dorm into a clean open room.
Gearing up for the school year is the new goal and remembering these few guidelines can really help create a smooth transition into college life. To make things even easier, and in case of any last minute emergencies, morestorage.com will FedEx straight to the dorm room.
Morestorage.com
255 Pratt Street Buffalo, NY 14204
1-866-960-6636
Fax: 1-716-348-3338
info(at)morestorage(dot)com
###