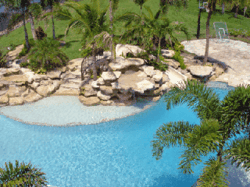 A good builder will add to the public's acceptance of Free Pool Quotes as a great place to start when you want to buy a pool
(PRWEB) July 22, 2011
Free Pool Quotes LLC, a leading online lead generation company for new swimming pool builders, has reached an agreement with Dunham Marketing Group to be its nationwide Sales Agent. With 20 years of construction industry experience, James Dunham, Principal of the firm, brings a vast warehouse of knowledge to the job. Having owned construction companies, having spent many years in marketing, and having made many a payroll, Mr. Dunham knows what a pool builder needs to succeed. He knows that Free Pool Quotes online leads will help a builder sell pools. Also as important, he knows what to look for in a quality builder to add to the current line-up of top notch pool builders already receiving leads from the service.
"A good builder will add to the public's acceptance of Free Pool Quotes as a great place to start when you want to buy a pool," said Mr. Dunham.
As a nationwide provider of leads, Free Pool Quotes is able to provide customer service anywhere in the United States. Once a customer who is searching the internet for a new swimming pool fills out the simple online form, the information is passed through the network to builders in that customer's area. While usually a local builder (often several, depending on the area) will contact the homeowner and set up an appointment, or answer simple questions over the phone, remote areas not normally served by a local builder will be covered by a national building company, or large swimming pool companies willing to build anywhere in the country, up to extremely large and complex pools.
Pool Builders can join the FreePoolQuotes.com Network by visiting FreePoolQuotes.com to subscribe or by calling 1-888-766-6821. All pool builders and pool contractors in the FreePoolQuotes.com Network must be licensed and insured.
About Free Pool Quotes, LLC
Free Pool Quotes, LLC is on online company that connects homeowners with local licensed and insured pool builders and contractors. FreePoolQuotes.com has no direct affiliation with any pool builders or pool contractors. FreePoolQuotes.com is an independent resource for homeowners.
###