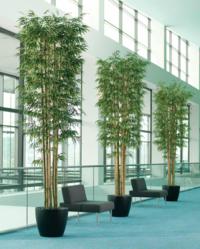 Fresh flowers are wonderful to grow outdoors while silk plants and florals are the best choice for indoors.
Cincinnati, OH (PRWEB) July 25, 2011
It's easy to assume that since fresh cut flowers are natural, they're a "greener" choice than silk flowers and plants. A study conducted this year by OfficeScapesDirect, however, falsifies this assumption. It reveals several surprising insights, including the fact that the use of silk botanicals for interior décor can reduce the carbon footprint – the amount of carbon dioxide (CO2) emissions into the environment – caused by the import, delivery and maintenance of fresh cut flowers and live plants by an eye-opening 99 percent.
The nation's premier supplier of designer-quality silk flowers, plants and trees for commercial interiors, OfficeScapesDirect analyzed the carbon footprints resulting from fresh and silk floral supply chain transportation.* The company's analysis took place in early 2011 and provides the following insights:
(1) Factoring in the differences in distances shipped and the modes of transportation used, shipments of OfficeScapesDirect silk botanicals have, on average, 93.06 percent fewer CO2 emissions than shipments of fresh cut flowers and greenery. The fresh floral industry primarily uses air freight and delivery vans – the modes of transportation with the highest CO2 emissions – while OfficeScapesDirect uses ocean, rail and semi-truck freight that produce far fewer CO2 emissions.
(2) Consider that quality silk floral arrangements, silk plants and trees last at least seven years. Then consider a typical commercial account: weekly deliveries of perishable, fresh flower arrangements 52 times a year, or for a business' live plant leasing contract, 52 weekly service calls to water and care for the plants. Multiply these 52 deliveries or service calls over the 7-year lifespan of a single silk botanical shipment to arrive at a staggering 364 deliveries. Opting for one shipment of quality silk botanicals would represent a 99.98 percent reduction in CO2 emissions.
(3) If not degraded properly by composting, live flowers and plants have greater undesirable effects in landfills than silk flowers and plants due to their production of methane, a greenhouse gas 21 times more harmful than carbon dioxide.** In the overcrowded landfills of the U.S., natural and organic trash is forced to degrade anaerobically (without oxygen), creating the methane by-product. So consider again the comparison of just one silk botanical shipment over seven years (which produces zero methane in a landfill) versus 364 weekly deliveries of fresh cut flowers over the same timespan. Methane levels in the landfills increase from discarded fresh cut flowers and plants – and far more space is consumed as well.
"In 2009 the transportation industry as a whole contributed 33 percent to the total CO2 emissions resulting from fossil fuel combustion in the U.S.**," Tim Hennessy, co-founder of OfficeScapesDirect, cited. "Both fresh and silk floral supply chain transportation contribute to this reality. More than 75 percent of fresh cut flowers used in the U.S. are imported***, most enter through the Port of Miami, FL and come from South America****. And the silk flower and plant components used in http://www.OfficeScapesDirect.com manufacturing are imported from Asia. Consequently, the resulting carbon footprints cannot be ignored. This is why we conducted our study – to take a careful look at both industries and dispel the myth that decorating with fresh flowers and plants is always better for the environment. Our results confirm that it's not."
"According to our data," Hennessy continued, "silk florals and plants create such a drastically smaller carbon footprint than fresh cut flowers that they clearly are the 'greener' choice and the best solution for a more effective sustainability strategy. 'Fresh' does not mean 'green' when it comes to interior floral decor. Businesses and consumers need to be aware of this misconception. Fresh flowers are wonderful to grow outdoors while silk plants and florals are the best choice for indoors."
Silk botanicals for indoor decor are not only a "greener" choice but a more cost-effective one as well. OfficeScapesDirect estimates if a company spends $80 per week on a fresh floral arrangement for its lobby or reception area, 52 weeks a year, its total flower bill over seven years would be a hefty $29,120. Compare this to one stylish silk arrangement for $150 that lasts seven years or more. An investment of four such arrangements to rotate quarterly would amount to only $600 over seven years, saving a dramatic 98 percent ($28,520). Mr. Hennessy asks, "How many companies offer an opportunity to reduce your cost by 98 percent and simultaneously reduce your carbon footprint by more than 99 percent."
For more information and to review OfficeScapesDirect's "Carbon Footprint Study of Silk and Fresh Botanicals," visit http://www.officescapesdirect.com/pressroom.
Footnotes:
*All calculations in the study are representative of the carbon footprint caused only by OfficeScapesDirect's supply chain transportation and are not representative of other silk suppliers or of the silk industry as a whole.
**U.S. Dept. of Energy and U.S. EPA "Inventory of U.S. Greenhouse Gas Emissions and Sinks 1990-2009"
***U.S. Dept. of Agriculture, 2009 Census of Horticulture Specialties; and U.S. Census Bureau, 2009 International Trade Statistics
****U.S. Customs and Border Protection; and U.S. Dept. of Agriculture: APHIS
OfficeScapesDirect (http://www.officescapesdirect.com) is the nation's premier supplier of designer-quality silk flowers, plants and trees for business interiors and commercial spaces. The company proudly offers the widest selection and inventory of beautifully designed silk creations at affordable prices, delivered directly to offices and businesses with utmost care.
OfficeScapesDirect's sister company, http://www.Silkflowers.com, serves the consumer market in the same manner, offering the widest selection anywhere of designer-quality silk botanicals for enhancing home decor. Both companies are located in Cincinnati, Ohio, and White Plains, N.Y.
###