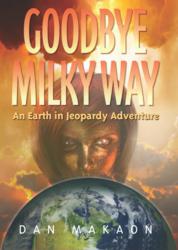 Man should not just sit idly by hoping the fate of dinosaurs does not befall him.
Ormond Beach, FL (PRWEB) July 22, 2011
Goodbye Milky Way – An Earth in Jeopardy Adventure is available as an e-book now and will be available as a hardcover (436 pp, 6¼ x 9¼, $27.95, 978-0-9833785-9-4) in fine bookstores everywhere on October 1, 2011.
In Goodbye Milky Way, Makaon's first novel, world governments are aware of a threat from deep space that will destroy mankind, but they're powerless to prevent it. They choose secrecy and cover-up to avoid global pandemonium. A few scientists, who independently learn about the threat, band together and form an eclectic team dedicated to finding and implementing a mechanism to save the Earth and the Moon.
Dan Makaon is a graduate of the U.S. Air Force Academy and former Captain in the Air Force, where he worked in the Space and Missile Systems Organization. He has a bachelor's degree in Science and a master's degree in Systems Management. While in the Air Force he was awarded the Commendation Medal for his innovative software development. After leaving the Air Force he worked in the specialty chemicals industry, and ultimately ran his own supply chain consulting firm.
For more information about Goodbye Milky Way, to schedule an interview, or request a review copy, please refer to the contact information at the top of this release.
###