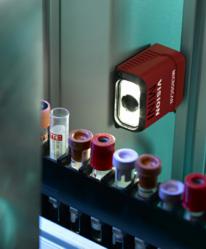 Renton, WA (PRWEB) July 21, 2011
Microscan, a global technology leader in barcode, machine vision and lighting solutions, will demonstrate its latest machine vision technology to the life sciences in Booth 239 at the upcoming American Association for Clinical Chemistry (AACC) Annual Meeting and Clinical Lab Expo. The event, which is the largest clinical lab exposition in the world, takes place July 26-28, 2011 at the Georgia World Congress Center in Atlanta, GA.
As the premier global provider of embedded barcode scanners and imagers for clinical diagnostics applications, Microscan is well known in the life sciences for its compact, high precision products. Microscan will feature live demonstrations of the following products at Clinical Lab Expo:
Vision MINI smart camera – As the world's smallest vision system, the Vision MINI is designed to provide reliable performance in embedded identification and inspection applications. Designed for OEMs, its small form factor (1.80 x 2.10 x 1.00") allows for flexible positioning in tight spaces. The Vision MINI smart camera features a complete vision toolset, integrated lens and lighting, plus the assurance of long-term availability and support.
AutoVISION™ machine vision software – Developed to shorten the learning curve often associated with machine vision software, AutoVISION provides a complete vision tool set. Real time feedback during programming and device configuration helps time-crunched engineers implement their vision applications with a minimum of effort.
Embedded 1D and 2D barcode scanners and imagers – The leading provider of barcode reading solutions for clinical diagnostics and laboratory automation, Microscan features a broad range of miniaturized, high performance products for accurate data collection, including laser scanners, 2D imagers, 1D/2D scan engines, handheld readers, and direct part mark (DPM) readers for tracking medical devices.
For more information about Microscan, visit the company at the AACC Clinical Lab Expo in Booth 239 or visit http://www.microscan.com.
###