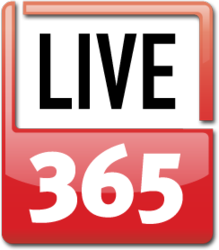 "Live365 is proud to provide premium internet radio to the Savtira Cloud Commerce platform. Savtira's SaaS platform is an innovative B2B offering that will further expand Live365's network of retailers and consumers," said Abraham Yacobian
Foster City, CA (PRWEB) July 21, 2011
Live365, the world's most diverse internet radio network and provider of premier broadcasting services, announces the partnership with Savtira Corporation to provide streaming internet radio for their new Cloud Commerce solution. Live365 will provide the custom internet radio streaming solution which will be integrated into the Savtira Cloud Commerce platform. With 7,000 internet radio stations across 250+ genres of music, Live365 will provide Savtira's clients with the ability to create custom music solutions to further engage their target audiences.
"Live365 is proud to provide premium internet radio to the Savtira Cloud Commerce platform. Savtira's SaaS platform is an innovative B2B offering that will further expand Live365's network of retailers and consumers," said Abraham Yacobian, Director of Business Development at Live365, Inc.
Savtira's (SaaS) Software-as-a-Service Cloud Commerce solution covers both digital and physical goods, using e-commerce to sell everything from downloadable entertainment programs to consumer electronics. All Savtira eStores are branded and custom-tailored for Savtira clients so that no two eStores are alike. The new agreement with Live365 allows Savtira to create custom-branded internet radio networks for eStore clients.
"In addition to offering games, eBooks, audiobooks, software, and other digital content, we now are able to provide radio stations featuring 250+ genres of music from broadcasters all over the world, substantially broadening our offering. The icing on the cake is that all Savtira clients will have their own branded radio station with genres and broadcasters that match their demographic," said Timothy Roberts, CEO of Savtira Corporation. "Live365 is the perfect musical complement to our platform and we look forward to a long, productive relationship with them."
To learn more about Savtira's Cloud Commerce Platform visit the following link:
http://www.savtira.com/platform.php
For business development inquiries with Live365, send an email to busdev(at)live365(dot)com
About Live365, Inc.
Live365, Inc. is a pioneer in Internet radio and broadcasting, having broadcast continuously since 1999. The Live365 radio network reaches millions of listeners worldwide, offering greater breadth and depth of high-quality streaming music, talk, and audio than any other network. Featuring 250+ genres of music produced by 5,000+ broadcasters and music tastemakers from over 150 countries, Live365 boasts a roster of artists and radio producers ranging from Carlos Santana, Pat Metheny, and Jethro Tull, to commercial and public radio stations, to individual DJs who program stations in every musical style.
Live365's end-to-end broadcast platform empowers individuals and organizations alike by giving them a "voice" to reach audiences around the globe. Through easy-to-use tools and services as well as royalty coverage, anyone with a computer and Internet connection can create his or her own Internet radio station and reach a global audience with minimal cost and effort.
About Savtira Corporation
Based in Tampa, Florida, Savtira is in the business of Digital Distribution with a Software-As-A-Service (SaaS) e-commerce platform that is a turnkey system for the distribution, marketing, merchandising, and selling of both digital media and physical goods in a single store and a single, unified shopping cart. Savtira-powered stores are designed to meet the specific needs of retail partners so no two eStores are alike. All Savtira eStores are branded and custom-tailored for our partners. Extra features and services are offered on an à la carte basis. Savtira is also building the next Carrier-Class "Entertainment Distribution Network" (EDN) to stream all digital media from the cloud with a feature set that eclipses anything on the market. For more information on Savtira, visit: http://www.savtira.com.
# # #