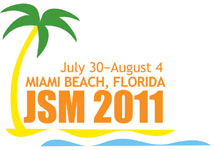 Alexandria, VA (PRWEB) July 21, 2011
Statisticians at the Joint Statistical Meetings (JSM) in Miami Beach next week will be sharing research and information on topics including hurricanes and global warming, maintaining data privacy, and challenges for economic policy. JSM, the world's largest gathering of statisticians, will take place July 30 through August 4 at the Miami Beach Convention Center.
Some of the sessions are described below; additional sessions on these and all the topics at the 2011 JSM can be found in the online program, where you can search on keyword, activity number, presenter. Search at:
http://www.amstat.org/meetings/jsm/2010/onlineprogram/index.cfm?fuseaction=main.
[Note: Members of the press can register online to attend any of the conference sessions at http://www.amstat.org/meetings/jsm/2011/index.cfm?fuseaction=pressregistration. Also, ASA will be pleased to set up interviews with any of the presenters; contact rosanne(at)amstat.org]
Challenges for Economic Policy: 2012 and Beyond (Activity 364)
Presenter: Gary H. Stern, Stern Partners LLC, former chief executive of the Federal Reserve Bank of Minneapolis and co-author of Too Big to Fail – the Hazards of Bank Bailouts
The financial crisis and deep and prolonged recession of 2007-2009 provoked an unprecedented policy response from the Federal Reserve and from Congress and the Administration. As the dust is settling and the economy improving, it is timely to assess three critical issues
http://www.amstat.org/meetings/jsm/2011/onlineprogram/AbstractDetails.cfm?abstractid=303451
Data Confidentiality: Health Policy Perspective (Activity 196)
Presenter: Ofer Harel, University of Connecticut
Somehow, a balance must be struck between the release of data for research purposes and the risk of disclosing private information. In this roundtable discussion we will discuss the conceptual, methodological and public policy implications of these issues and how these issues augment exciting challenges and provide open problems for our field.
http://www.amstat.org/meetings/jsm/2011/onlineprogram/AbstractDetails.cfm?abstractid=300616
The New World of Data on Human Beings: Challenges and Solutions to Promoting Research While Ensuring Confidentiality (Activity 391)
Panelists: Myron Gutmann, National Science Foundation; Stephen E. Fienberg, Carnegie Mellon University; Ian Foster, The University of Chicago; Emmanuel Saez, University of California at Berkeley; Peter Elias, University of Warwick
Advances in cyber infrastructure have created a virtual deluge of new types of data and new ways of collecting and combining data from different sources. In addition, new computational capacity facilitates the analysis of the data in terms of modeling and simulation with an unprecedented breadth and depth and scale. Major funding agencies have recognized the importance of these new data for advancing social science research, as well as the importance of providing access to data for research - and have mandated data management and open access policies to promote the dissemination of ideas.
http://www.amstat.org/meetings/jsm/2011/onlineprogram/AbstractDetails.cfm?abstractid=300117
Are Hurricane Risks Increasing? (Activity 550)
Presenters: James Elsner, Florida State University; Thomas Jagger, Florida State University; Robert B. Lund, Clemson University; Christopher William Landsea, NOAA/NWS/National Hurricane Center, Miami, Florida
Presentations include: On the Increasing Intensity of the Strongest Atlantic Hurricanes, Changes in North Atlantic Basin Hurricanes, and Hurricanes and Global Warming: Expectations Versus Observations
http://www.amstat.org/meetings/jsm/2011/onlineprogram/ActivityDetails.cfm?SessionID=206216
About the Joint Statistical Meetings
JSM, which has been held annually since 1974, is conducted jointly with the American Statistical Association (ASA), the International Biometric Society (ENAR and WNAR), the Institute of Mathematical Statistics (IMS), and the Statistical Society of Canada (SSC). JSM activities include oral presentations, panel sessions, poster presentations, continuing education courses, exhibit hall (with state-of-the-art statistical products and opportunities), career placement service, society and section business meetings, committee meetings, social activities, and networking opportunities. JSM is open to members of ASA, SSC, ENAR/WNAR, and IMS, as well as non-members and has special pricing for students, seniors, K-12 teachers, and also offers one-day registrations.
About the American Statistical Association
Headquartered in Alexandria, Virginia, the American Statistical Association is the world's largest community of statisticians and the second oldest continuously operating professional society in the United States. For 170 years, the ASA has supported excellence in the development, application, and dissemination of statistical science through meetings, publications, membership services, education, accreditation, and advocacy. Its members serve in industry, government, and academia in more than 90 countries, advancing research and promoting sound statistical practice to inform public policy and improve human welfare. For additional information about the American Statistical Association, please visit the ASA web site at http://www.amstat.org or call 703.684.1221.
For more information:
Rosanne Desmone
American Statistical Association
703.302.1861 (direct)
703.946.3820 (mobile)
Rosanne [at] amstat.org
###