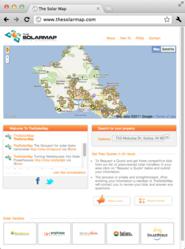 "Our goal with TheSolarMap is to accelerate solar power as a whole by helping solar companies generate quality customers for a fraction of the price." said CEO Steven Hochart
Honolulu, HI (PRWEB) July 20, 2011
TheSolarMap has released a breakthrough solar potential technology that applies a map-based platform to assess the solar potential for any building in the world. This mapping platform development combined with a new marketing engine enables TheSolarMap to connect solar representatives with their local communities. "Our new technology solution identifies homes suitable for solar and connects customers with solar installers at an extremely effective and affordable rate," said company CEO, Steven Hochart.
TheSolarMap is the first company to provide a map-based marketing tool that generates quality exclusive leads for half the price of other lead generation companies. TheSolarMap's intuitive technology measures sun irradiation, roof area, slope, shading and overall solar potential, which allows users to identify, target and engage quality roof tops. This offers solar providers the ability to directly target customers and focus on properties that meet their criteria. In addition, combined with TheSolarMap's certified geo-analytics, it is able to focus on properties with specific roof size, location and/or demographics.
"Our goal with TheSolarMap is to accelerate solar power as a whole by helping solar companies generate quality customers for a fraction of the price. We do this by combining our patented solar mapping technology with our advanced marketing engine, thus providing a breakthrough in the way solar companies are accessing the marketplace," stated Hochart.
TheSolarMap.com Company Information:
TheSolarMap.com is a Hawaii based technology company that uses a proprietary technology to generate quality exclusive customer leads for the solar industry. The main site has three components: 1) the industry's first mapping platform that allows it's user's to submit testimonials about their installations, 2) a proprietary lead generation platform for solar companies of all sizes 3) a network of solar installers that provide instant quotes for people interested in what solar can do for them. TheSolarMap's mission is to significantly improve this section of the business unlike other lead generation companies. TheSolarMap's patented solar analysis technology organically generates quality customers for our clients, thus accelerating their business.
###