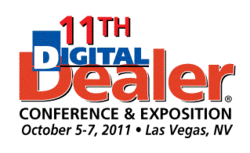 Learning how to sell and service more vehicles more profitably is the reason over 1,000 dealers and managers will descend upon Las Vegas for the 11th Digital Dealer Conference & Exposition.
Nashville, TN (PRWEB) July 22, 2011
Leading automotive dealers and industry experts on digital technology for automotive dealerships will share their expertise and best practices on the latest digital tools for sales and marketing, fixed operations, F&I, and pre-owned departments at the 11th Digital Dealer Conference & Exposition, October 5-7, at The Mirage in Las Vegas, NV. The conference features over 80 workshops, over 90 exhibits, and peer networking roundtables. http://www.DigitalDealerConference.com
More than 1,000 dealership owners, General Managers, Internet Directors, e-Commerce Managers, BDC Managers, CRM Managers, Pre-owned Managers, F&I Managers and Fixed Operations Managers attended the 10th Digital Dealer Conference & Exposition in April in Orlando, FL.
Even more automotive retail professionals from dealerships nationwide are expected to attend this October – to learn about the latest digital tools, technologies, processes, best practices, applications and solutions to boost sales, improve operations and increase dealership ROI. Learning how to sell and service more vehicles more profitably is the reason over 1,000 dealers and managers will descend upon Las Vegas for the 11th Digital Dealer Conference & Exposition.
Attendees can participate in Peer Networking Roundtables with others from similar-sized dealerships and operations to discuss best practices and help solve each others' greatest challenges.
Erik Qualman will be the keynote speaker for the 11th Digital Dealer Conference & Exposition. Often called the "Digital Dale Carnegie", Erik Qualman is the author of Socialnomics: How social media transforms the way we live and do business. Socialnomics made Amazon's #1 Best Selling List for the US, Japan, UK, Canada, Portugal, Italy, China, Korea and Germany. To learn more about Erik Qualman, visit: http://www.socialnomics.net/about-erik-qualman/
Leading dealers, industry thought leaders, and expert consultants and trainers will cover a compelling range of topics in the 80-plus sessions. Here is just a sampling:

Listen Up Kool-Aid Drinkers! How to utilize technology, strategy, structure, and process to increase your ROI. Presenter: Nicki Allen, Operations, Classic Chrysler Jeep Dodge Ram Mazda. She is one of the premier new generation dealers. Her social site, Grinding Gears with Nicki, has gained national prominence and she is a mainstay at her Mazda and Chrysler NADA 20 groups.
Your Web Identity is at Risk. Discover the 20 most important ways to protect your dealership's online identity. Presenters: April Rain is the Digital Development and Training Supervisor at Cuneo Advertising. She consults and trains dealerships on sales processes, time management, marketing strategies and technologies implementation. Richard Herod III is GM at the Saint Paul Auto Group. During his 15 years there, his roles have included: Sales Consultant, General Sales Manager, Business Development Center Manager, Internet Director and now General Manager.
Helping Dealers Bridge the Gap between Retail and Wholesale Sales. How to maximize the Internet for increased profits and efficiency while minimizing risk. Presenter: Ed Berkowitz is Vice President, Open Auction at OPENLANE. He is responsible for driving solutions to improve the online buying and selling experience.
Stand-alone Service Web Sites. Why you need one and how to build one. Presenter: Jeff Clark, DealerOn Inc., VP of Sales & Business Development. He oversees the sales and business development initiatives for DealerOn.
Creating the 'Apple Store Experience' in Dealerships. A look at how a technology-enhanced sales process creates an engaging customer experience that makes your dealership unforgettable. Presenters: Jim Hughes, Strategy & Business Development/Co-Founder of IntellaCar, has been a successful entrepreneur, winning awards and delivering the "wow" for well-known brands for over 30 years. Bruce Polkes, Marketing, Technology & Operations/Co-Founder of IntellaCar has a keen sense for technology and over 25 years of world-class marketing experience.
This is just a small sampling of sessions. View all of the speakers announced to date for the 11th Digital Dealer Conference & Exposition at: Digital Dealer Conference Speakers
More speakers will be announced soon.
What attendees have said:
Many Dealer Principals, Presidents, Vice Presidents, and General Managers said the 10th Digital Dealer Conference & Exposition was a real eye-opener to all the ways digital technology could help them improve dealership operations and practices.
Steve Smith, President of CBS Mitsubishi in Durham, NC, said, "I get all kinds of people or things pulling me daily. My Internet Manager stayed on me to go. I wish I could bring everyone that works in sales. This is the best meeting that I have been to in 18 years -- very educational. We have six stores and I have made big changes. Great event!! Will not miss another!!"
"I feel I was exposed to more current and usable information than any other event I have attended," added Scott Kesel, VP of Canandaigua Chrysler Dodge Jeep in Canandaigua, NY.
Eley Duke, VP of Duke Automotive, in Suffolk VA, agreed, noting the conference "really opened my eyes to a lot of things that are going on in our business that I need to focus on that I have only read about, but now I understand the importance of why I need to be on top of everything if we want to be successful."
"The conference is a good way to keep up with the fast-paced changes in our digital needs," says Steve Roe, GM at Roe Motors, in Grants Pass, OR.
Internet Directors, BDC Managers, and e-Commerce Directors from all regions of the country were equally enthusiastic. Here's just a sampling of their comments:
Lisa Miller, Internet/BDC Manager for Joyce Buick GMC of Mansfield, in Mansfield OH, said, "I was so impressed. This conference well exceeded what I was hoping for. I left EVERY session with ideas and something I needed to change or implement as soon as I got back to the dealership. I'm still in awe of what I picked up from this conference. I've said it in the past...just when you think you're ahead of the game, you attend this and find out you are still light years away from where you could be. THIS CONFERENCE IS A MUST ATTEND for dealership growth and profit!"
Tanisha Hope, Internet/BDC Manager, at Massey Yardley Dodge Chrysler Jeep, in Plantation, FL, says, "This conference opened up to us some things we could improve and implement. We did one small implementation when I returned - immediate results. Average BDC sales is 35 per month - did 52 sales last month!!! We have four other things I learned at the conference that we plan to try."
"The Digital Dealer Conference continues to be our dealership group's university for best practices, new technology and trend tracking," says Russell Blackstone, e-Commerce Director at Hewlett VW, in Austin, TX. "By meeting our peers at roundtable and networking sessions and attending presentations by the best dealer practitioners in the industry, we can stay current and ahead of our competition. We are also able to save a large amount of time and money by evaluating vendors during the conference. We take this golden opportunity twice a year to sharpen our saw and learn from the very, very best in the business."
From the Northeast to Southwest, attendees agreed that networking was a strong draw to the conference. Chris Fousek, e-Commerce Director of the Village Automotive Group in Norwood, MA, stated: "The Digital Dealer Conference is invaluable to our group as it is the forum to meet with vendors, peers and industry experts. The Digital Dealer agenda also allows us to bring employees from different levels of the dealership as it addresses so much." Della Andersen, Customer Relations Director for Rich-Ford in Albuquerque, NM, agreed, "It is so awesome to go there and be with peers -- GMs, Internet Directors, BDC Directors – and each one of you is learning best practices from the other."
e-Commerce Managers from the Mid-West and Coast to Coast agreed that the conference gave them fresh ideas. John Douglass, e-Commerce Manager at McGrath Lexus of Chicago, IL said, "It is always refreshing to see the latest trends, technology, and ideas. I sincerely hope to implement the new ideas in the immediate future without too much pushback and most certainly will attend the next conference."
"We learned many fresh ideas that are in the process of being implemented in our dealership. It was a very invaluable experience!" says Laura Polakiewicz, Internet Sales Manager at Royal Chevrolet, in Bridgewater, NJ.
Newcomers to the industry, like Allison Carpio, Digital Commerce & Marketing Specialist at Roseville VW, in Roseville, CA, also praised the conference for the fresh ideas and inspiration it offered: "As a marketing professional who is fairly new to the automotive industry, attending the Digital Dealer Conference was one of the most beneficial and educational experiences so far in my current career position. Not only was I able to exchange ideas with bright individuals, but I took away valuable tactics to ensure the success of my dealerships. In fact, we've already executed one of these tactics and it's shown positive results! I left the conference feeling more inspired and motivated to take my dealerships' e-Commerce and marketing efforts to the next level."
Robert F. Purdy III, Internet Sales Director at Jim Burke Automotive Group, in Birmingham, AL, noted: "We always come away with something valuable to the bottom line to implement. Every dealership should take a long hard look at being represented at this conference!"
To register for the 11th Digital Dealer Conference & Exposition, visit: Digital Dealer Conference Registration
ABOUT THE DIGITAL DEALER CONFERENCE & EXPOSTION
The 11th Digital Dealer Conference & Exposition is the ideal learning and networking venue for Dealer Principals, General Managers, Internet Sales Managers, e-Commerce Directors, BDC Managers, CRM Managers, Pre-owned Managers, F&I Managers and Fixed Operations Managers. The conference is owned and operated by Dealer Communications, the leading multi-media information source for the automotive retail industry. Connecting with franchised automotive dealers and managers over ten million times per year, Dealer Communications publishes the monthly print and online editions of Dealer magazine and Digital Dealer magazine. Online weekly newsletters include Dealer; Digital Dealer; Dealer Fixed Operations, Dealer Pre-Owned; Dealer F&I, and Dealer Sales and Marketing. To see all that Dealer Communications offers, visit http://www.dealer-communications.com.
###