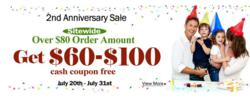 Hong Kong (PRWEB) July 21, 2011
DinoDirect, is a store which exists online and stocks a wide range of quality products. The retail store is celebrating its 2nd year anniversary, by rewarding loyal consumers with coupons worth $60 to $100. Consumers who spend above 80 dollars on the store's merchandise are eligible to receive $60 coupons. The store's VIP members can receive up to $100 discounts on products, if they spend above 80 dollars. The promotion runs from the 20th to 31st of July 2011.
The coupons are redeemable for all the store's products, which makes the opportunity worthwhile for all online shoppers. This is an opportunity for shoppers searching for electronic goods to purchase them at great discounts.
Promotional sales are not a new element to most consumers. Stores regularly extend promotional discounts and sales in a bid to draw in increased consumers. DinoDirect's sale on the other hand is geared towards rewarding consumers who have helped the store grow and attain its current status over the past 2 years. Despite being in existence for only two years, the store has been able to maintain a high competitive lead as a preferred, all-inclusive online store.
The eBook reader and Android tablet fans should definitely try and buy these electronic products during the 10-day promotion period. The readers have gained wide global popularity, because of convince, and their capability to "take reading to a new level," as stated by the store's CIO. Readers can catch up on their favorite novels, browse through digital book libraries and simply read digital material from virtually any location. The tablet shares a similar popularity and its use has penetrated the industry and learning institutions. The entertainment aspect, accompanied by business enhanced features, has made the tablets generate great sales throughout the globe.
Entertainment is an aspect which is sort at different levels and by practically everyone. People turn to entertainment channels to help them relax and to get rid of any boredom experienced. Traffic jams cause frustration and boredom, which can be dispelled by having a car DVD player, or an MP4 player, incorporated into a vehicle's entertainment unit. The devices are available in several designs and are packed with varied features, to meet the different entertainment requirements of different vehicle owners.
Blue lasers and Tattoo machines, are some of the other electronic products stocked by the online retailer. These electronic products are also best bought under the ongoing promotion. Apart from electronic products, the online store stocks Women and baby's outfits, shoes, gifts and holiday supplies, toys, home and garden implements as well as health and beauty products. In essence there is something for everyone, stocked by the online retailer. The store always stocks up new products in order to meet the rising demand for newer merchandise.
Web consumers shopping from across the globe can buy products from the store and have the goods shipped, free of charge, to their precise location. The store also runs an affiliate program which rewards shoppers who recommend the store to friends. The store's iDinor membership club entitles consumers to exclusive coupons, annual birthday gift cards and free monthly gifts.
All online shoppers seeking sales discounts, or help with covering the cost of electronic products, should take-up the store's 10-day promotion sale.
###