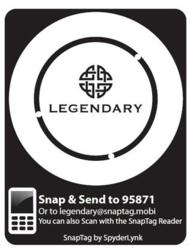 The centerpiece of the Legendary initiative at Comic-Con is the SnapTag™, a more accessible QR Code alternative.
San Diego, CA (PRWEB) July 21, 2011
Legendary Entertainment, a leading media company with film, television and comics divisions, is offering Comic-Con attendees at the San Diego Convention Center from July 21-24, 2011, a unique mobile game to connect and engage with one another.
The centerpiece of the Legendary initiative at Comic-Con is the SnapTag™, a more accessible QR Code alternative, created by marketing technology company SpyderLynk. The object for Comic-Con fans is to use their phone to "snap and send" as many as 500 unique Legendary SnapTags displayed on the lanyard badges of other show attendees. Those with the most "snaps" at the end win.
The game is accessible to anyone at Comic-Con with a mobile phone. Fans snap and send a SnapTag over short code or email to activate participation. iPhone and Android users can download the SnapTag Reader app at the iPhone App Store and Android Market to activate participation with a scan. Custom responses are triggered confirming participation with each snap and send or scan.
How It Works
The first 500 attendees to come to the Legendary Pictures booth on July 21st will receive their own unique Legendary SnapTag lanyard. They then become a 'Snapee' in the race to collect the most Snaps – Snapees compete to get as many festival-goers as possible to snap and send or scan the SnapTag on their lanyard.
The 'Snapee' with the highest number of unique snaps from their lanyard tag will win the Grand Prize, which includes an iPad, a $500 gift certificate to iTunes, ten Legendary DVDs (Batman Begins, 300, The Dark Knight, Where the Wild Things Are, Watchmen, The Hangover, Clash of the Titans, Inception, The Town), two Holy Terror t-shirts by Graphitti, and an autographed first edition copy of Frank Miller's Holy Terror (when available).
All other attendees can participate in the sweepstakes portion of the game by finding a 'Snapee' and capturing their SnapTag. Each SnapTag sent in counts as one entry. Winners of the 10 iPads will be randomly selected from the total combined entries of all participants.
"The SnapTag game gives Legendary an opportunity to go beyond their booth to engage fans and enhance the Comic-Con experience," said Nicole Skogg, SpyderLynk Founder and CEO. "I am excited to see if anyone will capture each of the 500 SnapTags at the event."
In addition to the sweepstakes entries, tumblers will be given out to Snappers each day while supplies last. Instructions to pick them up will be included in the text response to players.
Game play begins with the opening of the conference at 10am on July 21st, and ends on Sunday, July 24th at 12pm. Winners will be notified via email on Tuesday, July 26th. Game play is open to anyone ages 13 and up who are legal residents of the 50 United States and the District of Columbia.
For Official Rules, prices, offers, odds and how to enter without using a cell phone, visit http://www.legendary.com/snaptags-legal. Participants will need to send and receive three mobile messages to enter the Sweepstakes. Entry via MMS messaging may not be available via all wireless carriers.
About SpyderLynk
SpyderLynk activates branding to drive marketing results. SpyderLynk, the creator of the branded, algorithm-driven SnapTag™, enables brands such as Coke Zero, Revlon, L'Oreal, MillerCoors, Warner Brothers, Toyota, Bud Light and others to engage consumers and accelerate purchase cycles. A more sophisticated 2D Mobile Barcode, the SnapTag technology turns brand logos, featured on any type of packaging, advertising, signage or screens, into interactive marketing tools. Consumers with smart or standard camera phones can activate SnapTags to instantly access offers, content, promotions, and information. Based in Denver, Colorado, SpyderLynk was founded in 2006 and can be found online at http://www.spyderlynk.com.
Follow us on Facebook (facebook.com/snaptag), Twitter (@SpyderLynk) and through the #SnapTag hashtag.
About Legendary Entertainment
Legendary Entertainment is a leading media company with film, television and comics divisions dedicated to owning, producing and delivering content to mainstream audiences with a targeted focus on the powerful fandom demographic. Through complete or joint ownership, Legendary is building a library of marquee media properties and has established itself as a trusted brand which consistently delivers high-quality, commercial entertainment including some of the world's most popular intellectual property. Among the wholly-owned film projects that Legendary Entertainment is currently developing in-house are Pacific Rim, directed by Guillermo del Toro; an adaptation of the phenomenally successful interactive game universe Warcraft; Godzilla, based on Toho Company's famed character; Warren Ellis' Gravel; and Mass Effect, based on Electronic Arts and BioWare's hit videogame franchise. Legendary has co-produced more than 25 Warner Bros. films, including the recent smash hit, The Hangover Part II, which holds the distinction of posting the highest opening weekend gross ever for a comedy film, the critically acclaimed Inception, which has been a box office smash grossing more than $825 million worldwide, as well as the global blockbusters Clash of the Titans ($493 million worldwide), The Dark Knight ($1 billion worldwide), 300 ($456 million worldwide) and The Hangover ($467 million worldwide).
Follow Legendary on Twitter @LegendaryNews and visit the company's Facebook page at http://www.Facebook.com/LegendaryEnt.
###