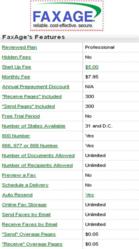 We're excited to bring the latest news on the FaxAge service to our site visitors. The updated product now includes local fax numbers in 31 states, and shoppers now receive $5 off of their first monthly bill
(PRWEB) July 23, 2011
Despite the multiple number of communications media available to small businesses and entrepreneurs, many organizations still need online fax services. The ChooseWhat fax review section announces the release of major updates to the FaxAge product review. Changes include the expansion of the number of local service numbers to now include 31 states and Washington D.C and 300 send and receive pages under the professional plan.
Online-Fax.ChooseWhat.com now rates the FaxAge service above the industry standard and find the company now provides unlimited online fax storage, exceeding the 30-day market standard. The service is Mac-compatible, permits faxes to be sent or received from unlimited email addresses, and includes a blocked/allowed phone call list, keeping accounts from being charged for blocked calls.
The ChooseWhat Labs personnel publish a free email fax buyer's guide on the online fax portal to educate shoppers on how to find the best fax service for the money. The guide includes a short, five-step process tailored to leverage the portal's comparison grid and email fax reviews to identify the most appropriate product for organization or individual needs.
Koby Wong, ChooseWhat Email Fax category manager, states, "We're excited to bring the latest news on the FaxAge service to our site visitors. The updated product now includes local fax numbers in 31 states, and shoppers now receive $5 off of their first monthly bill when they visit our site for the FaxAge discount link."
The recent updates to the FaxAge product review and special discount link on Online-Fax.ChooseWhat.com are the latest updates made by ChooseWhat labs staff to the fax product review portal. The staff include the top six products on the primary comparison grid and continually evaluate service performance against industry standards.
About Online-Fax.ChooseWhat.com
OnlineFax.ChooseWhat.com is published to help shoppers save time and money when choosing an online fax service for business or personal needs. The company's goal is to offer clear, "apples to apples" comparisons of top industry products while delivering relevant and trustworthy reviews of the most well-known fax services.
Contact Details:
Online-Fax.ChooseWhat.com
Lindsey Marino
401 Congress Avenue, Suite 1540
Austin, TX 78701 USA
Email: lindsey(at)choosewhat(dot)com
Phone No. 512-448-9031
Website: http://online-fax.choosewhat.com/
###