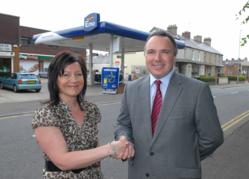 It's a whole new look and will contribute greatly to our aim to grow the business, and to provide an even higher standard of customer service
(PRWEB UK) 22 July 2011
There's a bright new look to the Curran Road in Larne, now that Robinsons Service Station has teamed up with Emo.
Already well-known for supplying home-heating oil, Emo has progressed in recent years to become Northern Ireland's leading oil company.
A move into the retail business about two years ago helped consolidate the company's lead position and a growing number of filling stations throughout Northern Ireland now proudly display their Emo colours.
The latest site to join the list is Robinsons Service Station, which is owned by Lenny Gilpin and his partner, Sylvia Long.
Lenny says: "The rebranding in Emo livery was completed only recently. Sylvia and I are delighted with the result and we have already had many words of praise from customers.
"It's a whole new look and will contribute greatly to our aim to grow the business, and to provide an even higher standard of customer service.
"We have appreciated great customer loyalty since we took over Robinsons four years ago and we look forward to serving the community for many years to come."
The new look coincides with new services, such as air, water and vacuum facilities for motorists.
"We are particularly glad that Emo is also the authorised distributor for Castrol, a global name in the lubricants business, and we are very happy to be stocking Castrol products," Lenny adds.
A large Day Today store – with an instore ATM - provides excellent back-up to motoring needs at Robinsons.
There is a wide range of grocery and confectionery products, as well many miscellaneous items, including greetings cards.
But the key word in the store vocabulary is fresh – and it applies to several available items, from fruit and veg to home-baked bread and sausage rolls.
There is also a strong demand for sandwiches and salad boxes, all freshly prepared in the store.
Barry Funston, Emo sales and marketing director, says: "The rebranded site looks really impressive, and I know that Lenny, Sylvia and their staff are determined to keep providing an excellent service for their local community.
"We look forward to unveiling more Emo-branded filling stations throughout Northern Ireland in 2011.
"We have put together an exciting retail package that will have great appeal to filling station owners wanting to stand out from the crowd.
"Overall, we are very much part of the community…a strong local brand with local staff and a local sales office."
###