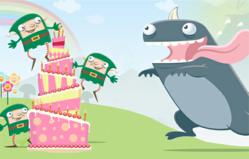 Many people are now choosing to send environmentally e cards leading to a higher demand for more diverse e card styles
Teddington, Middlesex (PRWEB) July 29, 2011
There is increasing demand for greeting cards to be more customizable and interactive, offering the added value of a two way experience, resulting is a shift to sending personalized Electronic Greetings Cards, and Ecard Games. Many people are now choosing to send environmentally friendly e cards instead of traditional paper greetings cards in an effort to challenge climate change and reduce their carbon footprint. This has lead to a higher demand for more diverse Ecard styles. To meet this need, Katies Cards director Katie Davies has diversified the range of cards on offer and has now launched a new Birthday E card game.
The Birthday Ecard game is designed for children and requires the player to save their birthday cake from the cake eating monsters, by setting a variety of booby traps and obstacles to stop them from reaching the cake. The game is high quality, entertaining and is quite addictive, bearing up to multiple plays. There is a pink version for girls and blue for boys.
The Cake Game joins a growing selection of E card games that have been released by Katies Cards over the past year, including Christmas e card games such as 'Lob the leader' which allows the player to hurl snowballs at the British political party leaders. A 'Turkey Shoot Game' which is fairly self explanatory, the 'Christmas Carol Game' where the player has to catch money thrown out of a window by Scrooge and avoid the Humbugs. In addition to these there are also April Fools games: 'Card Trick' which is mesmerizingly magical and the baffling and mysterious 'Face of Tamuz'.
E card games are a great way to send greetings to friends and loved ones at special times. They retain all the normal functionality of a traditional e card but also act as a card and gift, all rolled into one, entertaining the recipient as well as sending them a personal message.
Katies Cards is a small, family run e card company who have created over 160 different e cards to suit all occasions, tastes and ages. They charge a small subscription fee in return for unlimited access to every card they create and are adding new cards and game-cards all of the time. For more information and to preview the cards visit katiescards.com/
For more information:
Email: Racheal(at)katiescards(dot)com
Telephone: +44 208 274 2069
Facebook: facebook.com/pages/Katies-Cards/131480713601167
Twitter: twitter.com/#!/katiedavies
Copyright information: This article is free for reproduction but must be reproduced in its entirety, including live links & this copyright statement must be included. Visit katiescards.com for more services!
###