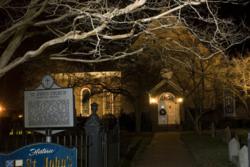 (PRWEB) July 21, 2011
On Sunday, August 7, join the Hampton Civil War Sesquicentennial Committee, St. John's Church, and the Hampton History Museum as they present "Ruin and Rebirth: The Burning of Hampton," a Civil War 150th Anniversary Commemoration. The free event, taking place at 5:00 p.m. at St. John's Church (100 West Queen Street, Hampton, VA 23669), will feature the story of Hampton's infamous burning, as told by Lincoln re-enactors Michael Krebs and Debra Ann Miller and historian John Quarstein. A reception will immediately follow the program at nearby Hampton History Museum (120 Old Hampton Lane, Hampton, VA 23669).
On August 7, 1861, after reading newspaper reports that the Federals planned to quarter troops and former slaves in Hampton, General John B. Magruder orders Hampton resident Captain Jefferson C. Phillips to set fire to the town. The Old Dominion Dragoons militia burned 30 businesses and 100 houses.
"Ruin and Rebirth: The Burning of Hampton"
Sunday, August 7
St. John's Church
100 West Queen Street
Hampton, VA 23669
5:00 p.m.
Free
757/727-1610
*Reception at Hampton History Museum immediately following the program at St. John's Church.
For further information on "Ruin and Rebirth: The Burning of Hampton" and other Hampton History Museum events, dial 757/727-1610.
Partially bordered by the Hampton Roads harbor and Chesapeake Bay, Hampton, with the 344,000 sq. ft. Hampton Roads Convention Center, is located in the center of the Hampton Roads metropolitan area. Hampton is the site of America's first continuous English-speaking settlement and is home to such visitor attractions as the Virginia Air & Space Center and Riverside IMAX ® Theater, Hampton History Museum, harbor tours and cruises, Hampton University Museum, Fort Monroe, award-winning Hampton Coliseum, The American Theatre, among others.
###