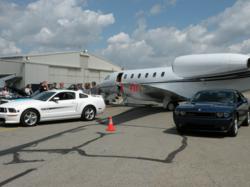 Pittsburgh, PA (PRWEB) July 23, 2011
Pittsburgh Institute of Aeronautics (PIA) will be holding a car cruise and open house at its West Mifflin, PA location. On Saturday, August 6, 2011 instructors and staff of PIA will be available to answer any questions that you may have about becoming an Aviation Maintenance Technician or an Aviation Electroinics Technician. There will an awesome display of classic cars and aircraft together on the tarmac. Prospective students will be able to take a tour of the campus and learn what to expect if you enroll into the program. The open house begins promptly at 10:00am.Please RSVP at http://www.pia.edu or call 1-800-444-1440.
For over eighty years, the Pittsburgh Institute of Aeronautics has been recognized as a premier training school for aviation maintenance. Many graduates have become high-level managers with major airlines, the FAA, and contract maintenance facilities. PIA is going to bring its history and tradition of excellence to Hagerstown, Md. Students will be able to take a 16 month Diploma program and become eligible to test for the FAA's Airframe and Power plant Certification test.
About Pittsburgh Institute of Aeronautics
PIA opened in 1929 and has not looked back. It offers outstanding "hands-on" training for traditional and non- traditional students in *Aviation Maintenance, Aviation Electronics, Mechanical Systems, and Electronic Systems. The instructional staff combines their real world experience with class room instruction for an outstanding education. PIA also provides a wide range of student services not only while the student is in school, but after graduation as well. The Placement Department works one on one with the students to reach their employment goals. PIA is often the first stop for many employers looking for quality employees.
PIA offers an Associate in Specialized Technology Degree at its West Mifflin, PA location and Diploma programs in Youngstown, OH, Hagerstown, MD, and Myrtle Beach, SC. There is open enrollment through the year accompanied with admissions requirements.
*Not all campuses have the same program offerings
For more information on enrolling at PIA, call 1-800-444-1440, or visit http://www.pia.edu
###