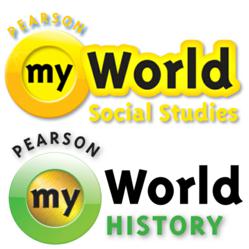 Boston, MA (PRWEB) July 21, 2011
Today, the education technology and services company Pearson announced myWorld Social Studies and myWorld History, two social studies programs that offer digitally robust content aimed at helping young people make personal connections and build long-term understanding of key social studies concepts. myWorld History, a middle school curriculum available immediately, and myWorld Social Studies, an elementary curriculum available for the 2012-2013 school year, join the award-winning myWorld Geography program to bring blended learning opportunities to students throughout the nation.
Elementary Grades: myWorld Social Studies, available for the 2012-2013 school year
Pearson is adding an elementary program to the myWorld suite, myWorld Social Studies, which will be released nationally for the 2012-2013 school year. Currently, Pearson is offering a customized version of the program to Florida schools.
With myWorld Social Studies, teachers can make the most out of limited instructional time to cover academic standards with print, digital and blended learning opportunities, while reinforcing reading and writing skills found in the Common Core Standards. Students explore concepts, build knowledge, and transfer what they have learned beyond the classroom leading to deeper and lasting comprehension and understanding
The program encourages students to make personal connections with the content through storytelling, the oldest means for conveying knowledge, but with a digital twist. Research shows that such connections help students retain and comprehend information.
myWorld Social Studies will incorporate a unique interactive online platform from Tikatok, a division of Barnes & Noble, to offer K-5 learners an opportunity to create digital books tied to social studies content. The myStory System™ will focus on:

authentic assessment of students;
the transfer of learning to demonstrate understanding;
digital literacy, independent thinking, and a mastery of digital tools; and
peer collaboration and review.
"Our myWorld programs integrate research-based, best practices for teaching social studies with cutting-edge content and delivery methods to make learning personal, engaging and relevant for our learners – and easier to manage for our teachers," said Pearson senior vice president Lynda Cloud. She added, "We designed the myWorld programs with the specific goal of exciting students and arousing their curiosity about the world they live in. Our virtual experiences, including digital storytelling and online adventures, encourage students to connect with and understand social studies in real ways, which is the heart of myWorld."
Secondary Grades: myWorld History, available now for the 2011-2012 school year
In addition to myWorld Geography, Pearson's new myWorld History program for middle school is ready for classroom implementation this school year.
Each myWorld History print and digital chapter opens with a fact-based narrative describing how people throughout history have coped with tragedy and triumph. These richly illustrated stories and engaging online resources help students make personal, emotional and enduring connections to the content.
myWorld History's fully digital content includes

project-based learning and game-like assignments in which students explore regions and time periods, gathering information by watching videos;
interactive simulations;
maps, data, primary resources, and artifacts;
and an online tracker that enables students to capture their thoughts and record their observations online.
Cloud added that all of the myWorld programs fully support teachers with point-of-use professional development, teaching strategies, and reporting functions to save hours in administrative work, and online training for easy implementation.
Pearson will donate a portion of the sale proceeds of myWorld History and myWorld Geography to charitable organizations worldwide. Through this "myWorld Gives Back" initiative, Pearson also sponsors myWorld 5K run/walks at conferences throughout the United States; funds collected from these events are donated to local and international charitable organizations.
For more information, visit http://www.pearsonschool.com/socialstudies.
About Pearson
Pearson has as its mission to work side-by-side with states, districts, teachers, students and parents to ensure that every child is prepared for college and career (NYSE: PSO). http://www.pearsoned.com
Contact: Stacy Skelly, stacy.skelly(at)pearson(dot)com, 800-745-8489
###