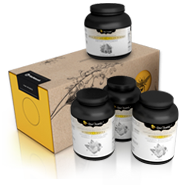 While other fertility fads have come and gone, BeeFertile® is based on tried and true ingredients that have been researched and used by women around the world for hundreds of years to improve reproductive health.
Heber City, UT (PRWEB) July 26, 2011
July 2011. When Josh and Chavah went looking for a natural answer to their infertility problems, after exhausting expensive medical options, they discovered an old family formula passed from generation to generation. BeeFertile® is the breakout product from Hive Naturals®, which harnesses the power of bees and other proven natural remedies for those trying to conceive. It was the natural answer Josh and Chavah were looking for.
Hive Naturals® was inspired by Josh and Chavah's personal quest for a family. They decided to start their family, but, like 1 in 5 couples worldwide, found it difficult to get pregnant. Doctors had no answers for the couple. With fertility methods like IVF too costly for the couple – Josh was working on finishing off his college degree – they were left heartbroken with the lack of options. That is when Chavah's father suggested that they try an old family formula that he had been recommending to other couples in the family's health food store for nearly 30 years. The regimen combined almost two-dozen essential oils, vitamins, herbs, and bee products. After three years of trying without BeeFertile's ingredients, it only took three months into the regimen for Chavah to become pregnant. Inspired by their own conception story and the knowledge that infertility affects 12 million people in the US every year, Josh and Chavah made it their mission to streamline this formula and make it available to everyone looking to conceive – giving birth to BeeFertile® kits.
BeeFertile® is available in three kits: Women's, Men's, and Couple's. Each kit contains a three-month supply of once-daily supplement pills and the proprietary Royal Jelly and Honey mixture designed to optimize each gender's reproductive health. The Women's kit seeks to support a healthy reproductive system and egg production through well-researched herbal and natural supplements that includes Chasteberry, Red Raspberry Leaf, and Evening Primrose Oil. The Men's kit not only seeks to support a healthy male reproductive system but also sperm production through a regimen of vitamins and supplements which includes Pine Bark Extract, CoQ10 and L-Carnitine. One ingredient that sets BeeFertile® further apart, is their inclusion of Royal Jelly in every kit. Royal Jelly is a honey-like substance fed to the Queen Bee to enable her to produce up to 2,000 eggs per day. Not used anywhere else, this nutrient rich substance not only supports improved fertility in both men and women, but also is a potential answer for many of those suffering from PMS, low estrogen levels, and irregular menstrual cycles. These all natural, non-prescription formulas crafted from herbal ingredients, essential vitamins, and bee products have been refined and scientifically validated over the years to improve one's chances to conceive. Hive Naturals is deeply committed to providing their customers with the finest organic and natural ingredients. They have scoured the globe for not only the best, but the most environmental, safe and suitable sources for every ingredient. BeeFertile® is the easy and cost-effective method to achieve a couple's goal of naturally building a family.
BeeFertile® is currently only available in the United States, but with word of its success reaching everywhere from Europe to Asia to Africa, Hive Natruals is rapidly expanding. BeeFertile® is the first in many exciting products from HiveNaturals®. Along with CEO Dan Merritts, Josh and Chavah have more than twelve products in the works to support every stage of life from prenatal to post-partum to menopause. HiveNaturals® is a privately run company with one goal in mind: to give others a safe, natural, and affordable path to making their dream of a having a healthy family come true. While other fertility fads have come and gone, BeeFertile® is based on tried and true ingredients that have been researched and used by women around the world for hundreds of years to improve reproductive health. BeeFertile® has already helped hundreds of happy couples conceive: stop trying, start conceiving, be the next BeeFertile® success story.
HiveNaturals® is based in Heber City, Utah, where Josh and Chavah live with their two children (and one on the way!), all conceived with the help of BeeFertile®. Learn more and order at http://www.beefertile.com or by calling 1 (888) 851-3785.
###