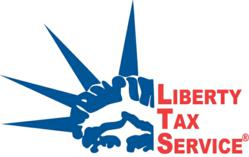 Virginia Beach, VA (PRWEB) July 21, 2011
There is some good news for those unemployed, and that is tax season is around the corner. While that may not sound like good news at first blush, Liberty Tax Service is ramping up tax schools to hire those seeking full and part-time seasonal employment. With the U.S. unemployment rate hovering just above 9%, learning a new skill comes at a timely point in the economy. Liberty Tax, the fastest growing tax preparation company ever, will need to hire about 40,000 tax preparers around the country to fuel the company's growth.
"Tax school offers individuals the opportunity to learn a new skill that is always needed and therefore opens doors for employment going forward," says Martha O'Gorman, Chief Marketing Officer and co-Founder of Liberty Tax Service. "Those who receive job offers will demonstrate that they possess a combination of tax knowledge and a passion for customer service. While we have many returning tax preparers, our rapid growth necessitates that we hire additional tax preparers for the upcoming season. Likewise, we offer continued education opportunities for our returning tax preparers," adds O'Gorman.
To learn more about job opportunities and Liberty's Tax School, visit http://www.libertytax.com/tax-education.html or call 1-800-658-1042.
About Liberty Tax Service
Liberty Tax Service is the fastest-growing retail tax preparation company in the industry's history. Founded in 1997 by CEO John T. Hewitt, a pioneer in the tax industry, Liberty Tax Service has prepared over 8,000,000 individual income tax returns. With 42 years of tax industry experience, Hewitt stands as the most experienced CEO in the tax preparation business, having also founded Jackson Hewitt Tax Service.
Liberty Tax Service is the only tax franchise on the Forbes "Top 20 Franchises to Start," and ranks #1 of the tax franchises on the Entrepreneur "Franchise 500." Each office provides computerized income tax preparation, electronic filing, and online filing through eSmart Tax.
Upon Request, John T. Hewitt, CEO and Founder, as well as Martha O'Gorman, CMO and co-Founder are available for interview.
###