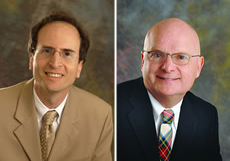 Rockville Centre, NY (PRWEB) July 22, 2011
John Pile-Spellman, M.D., F.A.C.R, and Alan Ettinger, M.D., have been named to New York Magazine's 2011 "Best Doctors" list. Dr. Ettinger is one of two Long Island neurologists selected for the list, while Dr. Pile-Spellman is the only Long Island-based interventional neuroradiologist chosen. Both are attending physicians with Neurological Surgery, P.C., one of the Northeast's leading practices of neurosurgeons and allied specialists.
"We congratulate Dr. Ettinger and Dr. Pile-Spellman on this honor," said Michael H. Brisman, M.D., F.A.C.S., a senior partner at Neurological Surgery, P.C. "Their selection for 'Best Doctors' is further validation that our practice provides the most advanced university-level care in a community setting."
Dr. Pile-Spellman is an international leader in interventional neuroradiology, a field of medicine that uses image-guided catheter-based techniques to treat diseases of the blood vessels of the brain and spine. He joined Neurological Surgery, P.C. from Columbia University Medical Center, where he was vice-chair of research and director of interventional MRI. With more than 150 peer review scientific papers to his name, Dr. Pile-Spellman is actively involved in stroke research. He chairs the board of directors of H.O.P.E. for Stroke, a nonprofit organization that provides support to stroke victims and their caregivers.
Dr. Ettinger is a nationally known epilepsy specialist who has dedicated his life to helping individuals with seizures and related disorders. He is a professor in the Department of Clinical Neurology at the Albert Einstein College of Medicine and has performed landmark research on enhancing the quality of life of people with epilepsy.
He has published widely in peer-review journals, has edited several journal supplements and textbooks, and is on the editorial board of a number of epilepsy journals. Dr. Ettinger is president of the Long Island Epilepsy Foundation's professional advisory board and is a member of the national professional advisory board and executive board of directors of the Epilepsy Foundation of America.
The names on the magazine's "Best Doctors" list are provided by Castle Connolly Medical Ltd., a New York City research and information company. Castle Connolly publishes an annual guidebook, Top Doctors: New York Metro Area, which lists those Castle Connolly has determined to be in the top 10 percent of the region's physicians—more than 6,000 in all. Castle Connolly provides New York Magazine with a shorter version of this list for the magazine's "Best Doctors" issue. Space prohibits New York from publishing the full list; this year, the doctors on the list number 1,144.
To select the physicians, Castle Connolly sends out 12,000 nomination forms to medical professionals in New York City, Westchester County, Long Island, and portions of New Jersey and Connecticut. The recipients include randomly selected board-certified physicians; all physicians listed in the previous edition of Castle Connolly's annual guidebook; and, from every hospital in the area, the president or CEO, the vice-president of medical affairs, and up to eight chiefs of service in departments from surgery to pediatrics. Recipients of the forms are asked to nominate physicians who they judge to be the best in their field and related fields—­especially those to whom they would refer their own patients and family members.
###