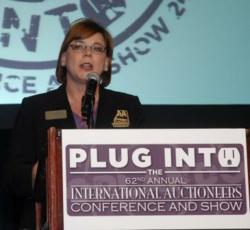 Overland Park, KS (PRWEB) July 22, 2011
As one of the oldest auction families in the United States, the King family has served as leaders and pioneers within the auction industry for multiple generations. On Thursday, July 14, the King family continued its legacy of serving the industry with the election of Christie King, CAI, AARE, BAS to serve as president of the National Auctioneers Association (NAA). A fourth generation auctioneer, Christie is the first female president of the association. As the association's 62nd president, Christie will oversee the association and profession which produces approximately a quarter trillion dollars in sales annually. Founded in 1949, the NAA is the world's largest professional association dedicated to the auction profession and industry and serves the interests of thousands of auctioneers throughout the world. King was elected by her peers at the association's annual conference in Orlando, Fla.
Founded in 1915, Christie's great grandfather, James Polk King, established the Gadsden, Alabama based boutique auction company, J. P. King Auction Company. The family owned and operated company has specialized in selling luxury real estate and valuable assets for nearly a century. Raised in an auction family, Christie joined the family business in 1987 and has served multiple roles in the day-to-day management of the company, eventually rising to the rank of Vice President of Administration. Christie and her siblings became owners of the family business in 1992 with the retirement of their father. A licensed auctioneer and real estate professional, King is a licensed broker in thirteen states and has earned the Certified Auctioneer Institute (CAI), Accredited Auctioneer Real Estate (AARE) and Benefit Auction Specialist (BAS) professional designations.
In 1992, Christie joined the NAA and through the years has served the association and auction industry in several leadership roles including two-term vice president, director, education trustee and a member of multiple committees. In addition to serving the national association, King is also an Alabama Auctioneers Association past president and Hall of Fame inductee. In 1998, King was the first female auctioneer appointed to serve on the Alabama State Board of Auctioneers. A respected and popular auction educator, Christie presents seminars on the auction business throughout the nation and is an adjunct professor of auctions at Jacksonville State University.
Through her work at J.P. King, Christie became involved with numerous charities, assisting them with their fundraising auctions. In 2007, King started C King Benefit Auctions, an auction company specializing in consulting and assisting non-profits throughout the Southeast. While Christie focuses the majority of her time on assisting charities through her benefit auction company, she continues to be involved in the family business as a co-owner and Auction Day Manager. King resides in Gadsden, Ala. with her husband, Mike Ray.
To learn more about Christie King or schedule interviews, please contact Caley King-Newberry at (256) 295-3629 or e-mail cnewberry(at)jpking(dot)com.
###