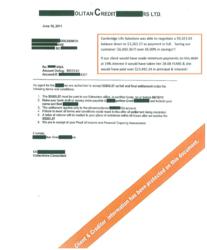 Ontario, Canada (PRWEB) July 22, 2011
Cambridge Life Solutions Canada is proud to announce it has achieved a 65% savings offer on behalf of their client struggling in debt. A $9,323.63 balance was negotiated down to $3,263.27; saving their client $6,060.36. If Cambridge Life Solutions Canada had not done enough already for their client; additionally they saved them over $23,0000 in principal and interest payments had their client continue to making minimum upon minimum payments. More importantly their client saved over 28 Years of making minimum payments.
Cambridge Life Solutions Canada achieved for their client a second chance to regain their financial freedom.
###