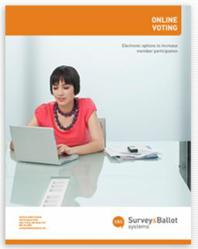 "...we are able to educate not only the benefits of online voting, but the security that needs to be in place to protect voters." Peter Westerhaus, Survey & Ballot Systems
Minneapolis, MN (PRWEB) July 22, 2011
One of the biggest challenges faced by professionals in member-based organizations is connecting with membership. Online voting has become a popular subject with associations, cooperatives, nonprofits and other member-based organizations as they look to increase participation through web-based options.
Survey & Ballot Systems (SBS) addresses this topic in the new eBook Online Voting: Electronic Options to Increase Member Participation. From the eBook readers will learn:

Benefits and efficiencies of electronic voting
Implementation strategies for their associations
Security precautions organizations need to know when considering e-voting
"Online voting tools can help create efficient, user-friendly elections – if implemented correctly," said Peter Westerhaus, vice president at Survey & Ballot Systems. "Organizations also need to know that not all online voting software is built the same. Security and confidentiality are critical factors that must be considered when choosing a solution. Through this publication, I am proud that we are able to educate not only the benefits of online voting, but the security that needs to be in place to protect voters."
Online Voting: Electronic Options to Increase Member Participation is a free resource. Download the eBook in PDF format here: http://www.surveyandballotsystems.com/resource-library/resources/online-voting-ebook/
For over 20 years Survey & Ballot Systems has been providing customers with the tools and resources to conduct highly successful elections. The world's top associations, cooperatives and organizations trust SBS to plan and manage their elections. SBS election services include traditional paper ballot elections, online voting, telephone voting and hybrid voting systems. If your organization could benefit from conducting the highest quality election available, with guaranteed and certified results, make sure to visit http://www.surveyandballotsystems.com for more information.
Full contact information:
Tim Madsen
952-974-2304
Survey & Ballot Systems
7653 Anagram Drive
Eden Prairie, MN 55344
Web URL: http://www.surveyandballotsystems.com/resource-library/resources/online-voting-ebook/
###