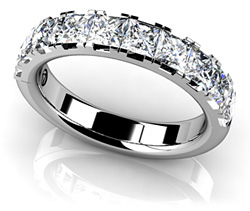 San Diego, CA (PRWEB) July 21, 2011
Anjolee added two new anniversary ring styles to their collection of wedding and bridal rings. Each of these rings can be paired with an existing engagement ring or worn as an anniversary ring. For unbelievable glamour, these two new ring styles feature popular princess cut diamonds, which have a rectangular shape and extreme sparkle.
The newest all diamond anniversary ring is the 'Four Prong Princess Cut Diamond Ring', style number SR36. This design is available in a number of sizes starting from 0.91 - 2.08 carats and with a choice of diamond color and clarity. There are six diamond qualities ranging from HI-I1 to FG-VS. All diamond choices include an excellent cut stone, so maximum brilliance and sparkle is attained. The metal type can be customized from the following choices: 10k, 14k, or 18k yellow or white gold or 950 platinum.
Anjolee offers gemstone versions for many of their best selling jewelry designs including the new gemstone and diamond anniversary ring called the 'Four Prong Princess Cut Gemstone Ring' , style number SR36-Gem. This design is available in sizes ranging from 0.91 carat to 2.08 carats also but with the additional option to add alternating gemstones between the sparkly diamonds. Gemstones are an incredible way to personalize wedding and anniversary rings. This ring features princess cut stones, amazing design and choice of royal blue sapphires, garnet, peridot, amethyst, citrine or blue topaz gemstones.
All jewelry designs on Anjolee can be customized according to metal type, diamond quality, gemstone, carat size and length. With thousands of jewelry designs including tennis bracelets, necklaces, pendants, earrings and wedding and bridal rings.
For assistance with identifying ring size, visit the Educational section on Anjolee. There are two useful ring sizing tools with many other jewelry topics covered. http://www.anjolee.com/educational/educational.html
###