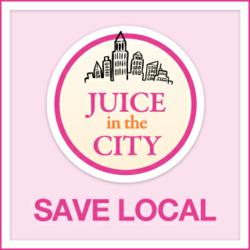 San Mateo, Calif. (PRWEB) July 21, 2011
Juice in the City, the destination for deals experienced and sourced by moms for moms, today announces the launch of a $3 million Groupmom Fund. The fund empowers moms to put money into local businesses with the discovery of exceptional services and products for daily deals.
To date, many local businesses have been burned by daily deals services that create an unsustainable wave of one-off customers, often resulting in an economic loss for business owners. Juice in the City takes a different approach to daily deals that generates a higher customer retention rate for local merchants. A workforce of moms distributed across the country visits and samples the products and services of local merchants and then sets up deals with the businesses based on a positive experience.
"We are not a call center that mass emails vendors to setup daily deals," says Philippa Smith, co-founder and CEO of Juice in the City. "Our moms go into their local communities, discover products and services they love and then become the marketing channel for daily deals."
Micro-Stimulus Package for Local Economy Recovery
Juice in the City is promoting its Groupmom Fund as a way to stimulate local merchant discovery and local economic recovery. Moms sourcing deals on Juice in the City will have the opportunity to be compensated for using local business services. A fundamental part of the company's model, moms can either opt to receive reimbursement for the deal experience or give that revenue directly to the local business. Additionally, local moms who blog about the opportunity to support local businesses will be compensated. Juice in the City consultants become eligible for compensation or reimbursement after they have secured just three successful offers for the site. Local bloggers are immediately eligible for compensation for sharing the good news about the local business offers.
While the federal government and other daily deal sites continually fail to create lasting improvements to the economy, Juice in the City's Groupmom Fund is betting on the success of funneling money into micro-grants for high-quality local businesses and entrepreneurial moms.
Juice in the City is active in 16 markets with over 200 moms, or Local Business Consultants, experiencing and organizing deals. The Fund aims to raise that number to 2,000 in the next 12 months, creating a mutually beneficial revenue stream for moms and businesses across the country. Local Business Consultants win because they identify and create value for their families, for each other and for their favorite local businesses. Local businesses win with an increase in regular customers and exposure to new market influencers. How Does the $3 Million Fund Get Distributed? Results from the pilot Groupmom Fund show that Juice in the City consultants are so committed to their local businesses that very few request the reimbursement funds, with the vast majority opting to give the funds directly to the local businesses.
Dena Chesler Grimm, who joined Juice over a year ago as one of the first San Francisco Bay Area Local Business Consultants, has experienced and coordinated many local business offers for her fellow Juice in the City moms.
"I love my job and I love my community," says Chesler Grimm. "I am proud to recommend each local business I bring to Juice in the City. It's so great to work for a company that encourages me and pays me to experience my favorite local restaurants, plan the best local activities for my children and then spread the word about these wonderful hometown places to other local moms!"
Dena's most recent deal was at The Fox Theater in Redwood City, and while she could have been reimbursed for her ticket, she insisted that her funds go directly to the business.
"Bloggers are our best partners in sharing the good news with the local community," says Sarah Liniger Eisner, co-founder and CMO of Juice in the City. "We are honored to pay them for their good work and the sincere service they are providing to moms everywhere."
Eisner cites the example of Felicia Carter in North Carolina who works to help moms give back to their communities by blogging at http://www.gograhamgo.com about Juice-recommended local businesses on a weekly basis. "We are happy to pay Felicia on behalf of all of the local businesses everywhere that are benefitting from this type of exposure."
Motivated moms and Mommy Bloggers interested in supporting local businesses and getting paid to spread the word about this local economic stimulus package should check out the opportunities at http://www.juiceinthecity.com/groupmom
About Juice in the City Juice in the City, started in May 2010, is a trusted matchmaker between local businesses and moms who work together to support the local economy. Juice aims to "grow local" by featuring the best local businesses experienced for moms by moms who earn money through the deals they make. With Juice's nationwide team of moms identifying, sourcing and writing about the deals featured each day, local businesses can rely on repeat business through the trusted recommendations of their most valuable customers.
Juice in the City markets currently include San Francisco Peninsula, San Francisco North Bay, San Francisco East Bay, Phoenix, Denver, Charlotte, Los Angeles South Bay, Los Angeles Ventura County, San Diego North County Coastal, Atlanta, Houston San Antonio, North Dallas Collin County Texas, Denton County Texas and North Mid Cities Texas. Future expansion markets include Seattle, Boston, Washington DC, Manhattan, Portland and many more.
For more information, please visit: http://www.juiceinthecity.com.
Contact:
Kemble K. Pope
415-677-9125 Ext. 204
kemble(at)vscpr(dot)com
###