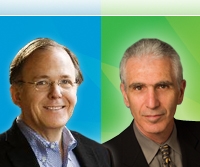 Aligning teacher and principal evaluation systems is crucial to creating an aligned system that focuses on raising student achievement
New York (PRWEB) July 28, 2011
As part of its Race to the Top initiative, The New York State Education Department has approved two systems for evaluation aligned to raise student achievement and teacher effectiveness. The Leadership and Learning Center with Dr. Douglas Reeves and Learning Sciences International with Dr. Robert Marzano have collaborated extensively to help districts successfully implement teacher and leadership evaluation systems that work in concert.
Both Dr. Douglas Reeves' Leadership Performance Matrix and Dr. Robert Marzano's Causal Teacher Evaluation Model transform systems for evaluation from one of "penalty and reward" to a "learning system," enabling districts to meet the primary goal of raising student achievement levels through the improvement of teachers and principals' professional practice.
"Providing research-based teacher and leader evaluation framework solutions that are aligned and that can be implemented in tandem is what our clients demand," said Dave West, SVP Houghton Mifflin Harcourt Educational Consulting Services. "The Leadership and Learning Center team, in concert with the Learning Sciences International team, offer the critical implementation support experience and capacity to provide unprecedented client assurance. Our measure for client assurance is student achievement gains."
"Aligning teacher and principal evaluation systems is crucial to creating an aligned system that focuses on raising student achievement," said Learning Sciences International CEO Michael Toth. "Both of our organizations are working with districts across the country to implement this powerful solution for teacher and leadership growth, development and evaluation."
Across the state of New York, districts will be piloting new systems for teacher and principal evaluation in the upcoming school-year.
Dr. Douglas Reeves will explain the vital connection between effective leadership and student gains in an upcoming webinar on Tuesday, August 2nd at 1pm Eastern. Register online to attend this free webinar and learn how The Leadership Performance Matrix and iObservation enable districts to provide leadership with feedback that is accurate, constructive and timely.
About The Leadership and Learning Center
The Leadership and Learning Center, a division of Houghton Mifflin Harcourt, provides research-based solutions for districts to improve student achievement. The Leadership Performance Matrix was developed by The Leadership and Learning Center's founder Dr. Douglas Reeves.
About Learning Sciences International
Learning Sciences International is partnered with Dr. Marzano to work with state departments of education and school districts to implement the Marzano Evaluation Model. Learning Sciences International is also the provider of iObservation, the only platform to support Dr. Marzano's Causal Teacher Evaluation Model and Dr. Reeves' Leadership Performance Matrix.
###