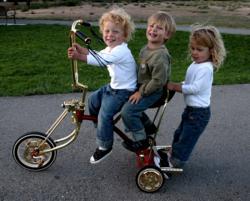 San Francisco, CA (PRWEB) July 22, 2011
Red Tricycle (redtri.com), a digital media company that delivers local parenting news to five West Coast Cities purchased CityMommy, a local forum-based community site that operates in dozens of U.S. cities. The acquisition gives Red Tricycle a significant user boost in existing markets (Seattle, Portland, San Francisco, Los Angeles, and San Diego) as well as lays the groundwork for future Red Tricycle expansion.
"We're thrilled to welcome CityMommy enthusiasts into the Red Tricycle family," said Red Tricycle CEO Jacqui Boland. "Red Tricycle's strong editorial voice, original content and loyal readership, coupled with CityMommy's engaged and vocal forum users, will deliver a powerful, practical, and truly unique local online parenting experience."
Users will be able to find local parenting topics on the Red Tricycle site from cooking to camping to concerts, and hear not only editor's recommendations, but also local mom tips and opinions. Over the next several weeks, Red Tricycle will begin incorporating elements of the CityMommy site into the Red Tricycle site, inviting CityMommy users to participate in Red Tricycle forums.
With the demise of Nickelodeon's local GoCityKids newsletters and editorial team, Red Tricycle is now the leader in the local parenting space. This acquisition, comes on the heels of their acquisition of Portland-based NWKids.com in December 2010.
"We know how to do local content well – utilizing a team of freelance writer moms and dads in each market. And we understand the mechanics and financials of scaling a locally-based business, having proven our model successfully in several new markets. We are now moving full-steam ahead to bring Red Tricycle into the cities that parents have been demanding," said Drea Lester, chief operating officer.
About Red Tricycle:
Founded in 2006, Red Tricycle is a digital media company that provides authoritative, localized content (things to do, see, eat or buy with kids in a city) to its growing online community of busy urban moms through a variety of communication devices: email, website, social media, RSS, mobile. Their mission is simple: To help parents have more fun with their kids.
###