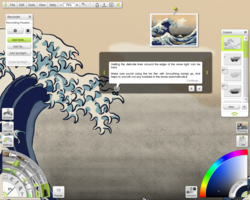 Auckland, NZ (PRWEB) July 22, 2011
Ambient Design (http://www.artrage.com), the leading award-winning creator of realistic art painting software for Mac, Windows and iPad, launched today the new version of ArtRage Studio and Studio Pro version 3.5 via its store at: http://www.artrage.com/artrage-store.html. ArtRage lets you become a true digital artist, providing the experience of actually "painting" digitally on a computer canvas with oil paints that smear and blend, and watercolors that flow together to create soft, wet gradations, just as they would in a traditional art studio.
Available for Mac, Windows, Interactive White Boards, Tablets & Touch Screens –
Most Realistic Tactile Experience — Closest to Actual Painting
Available immediately for Mac and Windows computers, ArtRage Studio and Studio Pro 3.5 is the only art software that provides the most realistic tactile experience, closest to actual painting. Major improvements in version 3.5 include the ability to record and playback actual paint strokes, faster speed, scripting, content sharing, and improved color blending tools. In addition, there are many other new features, including improvements to the interface to smooth out workflow, tweaks to tools to give quick access to important functionality, and other changes that have been requested since the release of 3.0. For a full list of new features, see: http://www.artrage.com/artrage-whatsnew.html
New ArtRage Studio and Studio Pro 3.5 Features:
Recording/Playback: ArtRage now allows Recording and Playback of paintings and automates repetitive tasks. It records the painting as it happens, to play back later at original or accelerated speeds with the option of changing resolutions, reproducing the actual strokes that made up the painting dynamically for the viewer.
Create Tutorials: Record your art for posterity and create tutorials with annotations explaining techniques, to share the process of painting. Add Note Bubbles and Spotlights that draw the viewer's attention to areas of the canvas during playback. Create tutorials to share your knowledge, explaining why you're using a certain technique or tool.
Share Content: The ArtRage Package File system makes the process of sharing custom content, like stickers, presets and stencils, easy. The Package system lets you gather together as many custom resources as you like and compress them into an easy to use data file that can be shared with other users and installed with a double click.
Painting Tool Improvements:

Loaded Palette Knife: Load paint on to the Palette Knife before using to create smooth strokes. Includes precise angle control of the Knife edge to create uniform strokes without worrying about how you are holding the stylus, blending as you go.
Hard-Tipped Tools: Pencils, Crayons, and Chalks have improved pressure curves to allow more expressive strokes on the canvas with stylus pressure devices like Wacom tablets and tabletPCs.
Improved Color Blending: Oil Paint and Watercolor blends faster and even more realistically.
Mutli-Threading Speed Improvements: Users of multiprocessor or multi-core computers will see substantial speed increases. Multi-threading support has been added to the tools and many of the processor intensive functions for increased speed for multi-core CPUs.
Scripting & Sharing: Scripts recorded in ArtRage can be edited manually. You can change the color of a single stroke or the tools used — almost every aspect of ArtRage can be controlled via written commands, including paint strokes, transformations, settings, built-in filtering and more. Scripts can also be shared to teach and show techniques – something that sharing basic content doesn't do.
"The key to Studio and Studio Pro 3.5 is its speed and ease of sharing," said Andy Bearsley, Technical Director, Ambient Design. "Our Scripts and Packages provide huge improvements in how users can share content, and the multithreading and reworking of the real color blending system improve tool speed alongside that. Multithreading support has been added to nearly every aspect of the application, not just the tools, so almost everything shows a significant improvement in speed."
"Previously, sharing an image was like sharing a fine meal with someone: they may enjoy the end result, but they don't know how to cook it themselves. With the Scripts feature in version 3.5 of ArtRage, we let you bring them in the kitchen with you to show the method behind the meal," said Matthew Fox-Wilson, Creative Director, Ambient Design. "This means you can share your talent as well as your art."
Availability & Pricing
ArtRage Studio and ArtRage Studio Pro 3.5 for Mac and Windows are available immediately, priced at $40 and $80 respectively at http://www.artrage.com/artrage-store.html. Registered owners of ArtRage 3 Studio and Studio Pro qualify for a free update. ArtRage for iPad is also available immediately priced at $6.99 from the Apple iTunes Store. See comparison chart: http://www2.ambientdesign.com/files/artrage_product_comparison.pdf. For more information, see http://www.artrage.com or Facebook: http://www.facebook.com/artrage.
About Ambient Design Ltd.
Ambient Design Ltd. is a New Zealand-based global software development and publishing firm, specializing in creative applications and user interfaces for artists of all ages and all levels of competency, including professionals, hobbyists and students. The principals have over 40 years experience in combining complex image processing algorithms with an easily accessible user experience. Ambient Design Ltd. was founded in 2000 by Andy Bearsley and Matt Fox-Wilson, formerly of MetaCreations, the developer of Painter, Bryce and Kai's Power Tools. ArtRage versions are available in 12 languages and have been downloaded over 10 million times. For more information, see http://www.artrage.com.
ArtRage, Ambient Design and the BrushMan logo are trademarks of Ambient Design Ltd. All other trademarks are property of their respective owners.
# # #