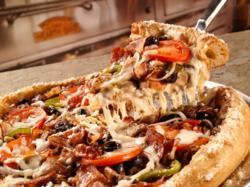 Mellow Mushroom is the perfect fit for the town of Boone and we are looking forward to restoring Mellow Mushroom as an important part of this wonderful community,"
Boone, NC (PRWEB) July 25, 2011
Mellow Mushroom Pizza Bakers is coming back to Boone under new ownership opening Monday, August 1, 2011 at 805 West King Street in the heart of Downtown.
Owner Chuck Luddeke, is looking forward to bringing Mellow back to Boone. "Mellow Mushroom is the perfect fit for the town of Boone and we are looking forward to restoring Mellow Mushroom as an important part of this wonderful community," stated Mr. Luddeke.
Mellow Mushroom features a creative menu with an assortment of pizzas, hoagies, salads, calzones, appetizers, vegetarian and vegan options and gluten-free crust. Enjoy this new and unparalleled Mellow featuring unique artwork and craftsmanship from local artists embodying the spirit of the High Country.
This Mellow will feature an exclusive 60 Beer Club, with select, member only rewards,HD televisions, local Appalachian State and Watauga High School events and functions.
The Mellow Mushroom will operate 7 days a week Sunday-Thursday, 11:00 a.m. to 10:00 p.m., and Friday-Saturday from 11:00 a.m. to 11:00 p.m.
For 37 years Mellow Mushroom has been serving up fresh stone baked pizzas to-order in an eclectic, art filled environment. Each Mellow is locally-owned and operated with a unique feel, focused around great customer service and quality.
###