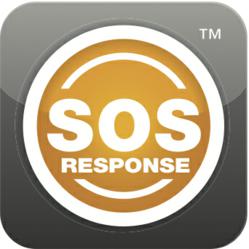 Vancouver, British Columbia (PRWEB) July 22, 2011
Securiguard International Limited and EvidencePix Inc. today announces the signing of a twenty-year licensing agreement for SOS Response – a new security service for people when they are mobile.
SOS Response operates on smartphones and when used, automatically sends valuable images (30 pictures in 30 seconds), GPS location and other information to a live 24/7 professionally monitored station. With these visuals, trained operators instantly assess the ideal response for a guard, ambulance, police or other services to the person's location.
Under the terms of this global agreement Securiguard will offer SOS Response directly to its customers and sub-license it to professional security monitoring companies globally. SOS Response will be operational in September 2011.
"SOS Response allows us to extend our experience and full security capabilities to people when they are mobile", said Darcy Kernaghan, President of Securiguard. "In yesterday's world we had monitoring of physical assets: homes, business, vehicles and buildings. In today's world we now have live monitoring for people on the move. People need to know that help is available to them wherever they are. SOS Response on smartphones is the logical solution".
"We pioneered personal safety and security apps for smartphones using our patented EPIX Process. Now with Securiguard's 37 years of experience in the security industry and their global relationships, personal portable security for anyone is elevated to a level that in the past was reserved only for commercial customers", said Raymond Sobol, President of EvidencePix Inc.
Securiguard is based in Western Canada with offices in Vancouver, Edmonton, Victoria, Nanaimo, Kelowna and Kamloops. Internationally, Securiguard Middle East has established offices located in Abu Dhabi and Dubai, United Arab Emirates.
With offices in Vancouver and Palo Alto, EvidencePix Inc. is a leader in automated authenticated mobile media capture and secure storage using the EPIX Process. House brands include SOS Link, SOS Teams, Verify Pix, Verify Video, Verify Pro, and Evidence Locker Enterprise Software. Licensed brands include SOS Response and Bachao!.
###