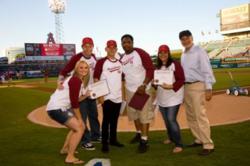 Anaheim, CA (PRWEB) July 21, 2011
Brandman University honors the winners of their Most Valuable Person, or "MVP," contest at Angels® Stadium on July 20th. To recognize that real heroes are often disguised as common people full of dedication and perseverance, improving the lives of others, the university held a competition on Facebook asking people to nominate their "most valuable person." Hundreds of nominations were received and five winners were selected by popular vote. The group includes two special education teachers, an emergency room doctor, a father of five and a US Navy Seal Cadet, all of whom were awarded MVP for making a positive impact on their friends, family and community.
Pictured in photo left to right: Shannon Spini, Kevin Hegewald, Joseph Jackson, Shawn Lucy, Kristy Chavez and Gary Brahm, Chancellor, Brandman University.
About Brandman University
Brandman University is a private, non-profit institution accredited by the Western Association of Schools and Colleges (WASC). Established in 1958 and a part of the Chapman University System, Brandman blends a legacy of academic excellence with progressive, innovative curriculum and strong support services designed for working professionals. Solely dedicated to the working adult, the university serves more than 10,000 students annually in 200-plus undergraduate and graduate degree, certificate, credential and professional development programs in arts and sciences, business, education and health, both offered online and through 26 campuses in California and Washington. For more information, visit http://www.brandman.edu.
###