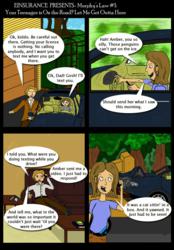 "EInsurance.com provides information and competitive insurance quotes. Now it gives people something to smile about, too." David Thompson
Chicago, IL (PRWEB) July 23, 2011
Heard the one about the car insurance agent and the split limits of liability policy? Probably not. Jokes about insurance don't exactly have audiences rolling in the aisles at the local comedy club yet. But stay tuned. EInsurance.com is aiming to inject some much-needed humor into the stodgy world of insurance with the introduction of Murphy's Insurance Law. The new comic strip, which debuts this week at EInsurance.com, takes a lighthearted look at everything that can go wrong when you don't have the right insurance coverage. The strip, created by Chris Thompson, follows the insurance misadventures of Murphy, his family and friends. The first installment deals with teen car insurance for Murphy's daughter.
"Insurance is pretty serious stuff and it can be confusing. We want to help people become informed consumers of insurance and give them something to smile about in the process," said David Thompson, president and CEO of EINSURE Services, Inc., parent company of EINSURANCE.COM.
A new installment of Murphy's Insurance Law will appear weekly on the EInsurance.com website, along with a podcast and article on the featured topic. "EInsurance.com is an online resource that provides information and free competitive quotes from top carriers for almost every kind of personal and business insurance product. So we'll be covering a variety of topics including car insurance, health care costs, small business and life insurance," Thompson said.
About EInsurance.com and EINSURE Services, Inc. and
EInsurance.com, a division of EINSURE Services, Inc., provides a free online platform where consumers can easily find multiple insurance carriers and quotes for a variety of insurance products including auto insurance, business insurance, health insurance and home insurance. Specialty insurance products and financial services provider information are also available on the site. For the information and resources you need to get the best possible rates on auto insurance and other insurance products, for more information on auto insurance coverage options and to learn more about the insurance laws in your state, visit http://www.einsurance.com.
###