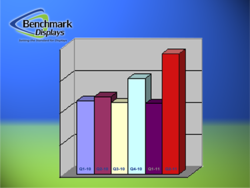 Palm Desert, CA (PRWEB) July 22, 2011
Benchmark Capital Partners, LLC, Palm Desert, California has announced 2Q sales exceeding those of the past six quarters. Benchmark credits the improving economy, robust demand for acrylic point of sale displays and the successful launch of their new e-commerce web sites.
Benchmark recently launched two brand new e-commerce sites: TaymarPlasticDisplays.com serving qualified distributors and wholesalers with stock point of purchase displays and brochure holders and DisplaysDirect.net providing similar products to the public and small businesses. Both sites were jointly developed with the assistance of Graphtek Interactive Media.
Key to Benchmark is customized displays. Eye-catching merchandising displays are the backbone of a good retail marketing campaign. Benchmark will launch a re-designed and more user friendly, benchmarkdisplays.com shortly. Innovative and well-designed point-of-purchase displays from Benchmark Displays can dramatically improve sales success in today's competitive marketplace. Benchmark offers design, engineering and prototyping support on all types of custom displays.
Benchmark is capitalizing on its worldwide manufacturing capabilities and resources to make and distribute affordably priced acrylic displays, Lucite awards and virtually thousands of display designs for literature and retail products in a variety of materials, many of which are recycled for a greener world.
Benchmark offers hundreds of stock, off the-shelf, point of purchase display items. Brochure Holders and Literature Frames of every size are most popular. Table Tents that are used for information, photographs and menus are available. The retail industry favors the wide variety of risers, pedestals, jewelry and shoe displays.
###