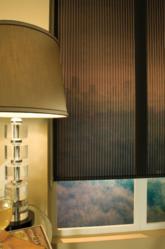 Castle Rock, CO (PRWEB) July 23, 2011
Comfortex, a Hunter Douglas owned window treatments company, just released a new book for their Comfortex Envison Roman and Roller Shades. Comfortex is a leading supplier of faux wood blinds and custom made shades.
Comfortex Envison Roman Shades are available for inside or outside mounting. Popular styles are the Fold/Flat Fold and the Hobbled/Teardrop. With 18-96 inches in width and 18 -108 inches in height, these shades will fit just about any window.
Comfortex Envison Roller Shades are available for inside or outside mounting, just like the Roman shades, but also allow the choice between 5 different color options for the metal valance the shade is housed in. This is a particularly nice feature for long windows. Motorized roller shades are available in sizes ranging from 18 - 96 inches in width and 18- 192 inches height.
"Both styles offer superior protection from the damaging sunlight that can fade furniture and carpets. These shades keep homes much cooler during the summer. Each shade is easy to operate with the radio remote control. The remote operation makes these shades perfect for hard to reach windows, window fronts and even skylights. Single channel remote controls and 5 channel remote controls are available .They allow control of up to 5 windows simultaneously The motor controlling the blinds comes with a 5 year warranty and operates very quiet".
"Another available option is a wall switch with up to five channels for wireless control. Wall timers are also available. They let the homeowner set the times and the shades close or open automatically. The wall timer can be modified with a plug in sensor. This lets the homeowner essentially override the timer settings. The shades can now be operated when the sun goes down. The optional power adapter eliminates the need for batteries".
###